Bobby Shmurda recently threatened to "boom" Wack 100 for comments Wack made about him.
"Any n*gga I catch, like Wack, any of y'all n*ggas. Y'all can record this," Bobby said. "I'm going to boom them on camera. On camera, live. On parole.' I don't give a f*ck. I'm going to boom on you n*ggas on camera. On my dead grandmother, n*gga. Next n*gga call my name, and n*ggas who called my name already. Wack, when I catch y'all, on my dead grandmother, I'm gonna boom y'all."
Wack, who calls everyone's name, responded to Bobby's verbal aggression with an offer: Time with transgendered model Naughty Nerd Ninja if Bobby does Wack's Clubhouse show.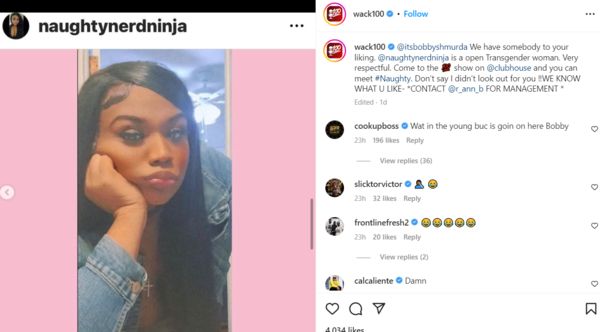 "@itsbobbyshmurda We have somebody to your liking. @naughtynerdninja is a open Transgender woman. Very respectful. Come to the 💯 show on @clubhouse and you can meet #Naughty. Don't say I didn't look out for you ‼️WE KNOW WHAT U LIKE- *CONTACT @r_ann_b FOR MANAGEMENT ," Wack captioned a photo of Naughty Nerd Ninja.
Ever since Bobby got out of prison, there has been chatter that Brooklyite will have sex with people other than natural-born women.
Some of it has to do with Bobby's enthusiastic dance style, wich has been described as "zesty" and "spicy."
Who's going to end up getting boomed here?
Discuss