Young Buck's G-Unit status didn't save him from Uncle Murda's mockery in his "2018 Rap-Up".
"Young Buck got caught up in some gay shit
'Cause them G Unit niggas thought I wasn't gon' say shit (What!?)
Nah, f*ck that, he got caught with a tranny," Murda roasted in his annual track.
Among the topics Murda addressed were 6ix9ine, Kanye, Kodak Black, Suge Knight, and the Cardi B-Nicki Minaj beef.
Nicki ain't wanna fight when Cardi tried to pop
But Cardi the one that left Fashion Week with a knot (Damn)
Jill Scott video when viral on some other shit
She need to teach Blac Chyna how to suck a dick (She need help)
Nicki vs Cardi, who side y'all choosin'?
Nicki rap better, but Cardi puttin' out better music
Whatever Cardi drop hot, the people like the shit," he rapped.
Cardi thought she got off easy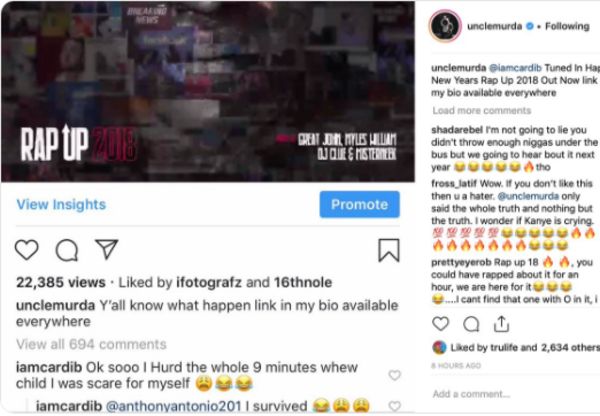 "I survived," she commented.
Here's "2018 Rap Up."
Discuss