Tyrese has dropped his receipts on DJ Envy.
Tyrese has been fighting with Envy ever since Envy accused Tyrese of disrespecting his wife, Gia.
According to Tyrese, he helped Envy and Gia save their marriage -- which saved Envy from a very expensive divorce.
Tyrese added that the marriage had been in jeopardy because Envy couldn't stop cheating.
"No one has disrespected your wife and family more than you. I know the level you took it to," Tyrese said.
Then he brought up Envy's Ponzi schemes and suggested he cheated on Gia up to ten times.
"You're a manipulator. You're a gaslighter. And you're also one of those great undiscovered actors. How the f*ck are you living a double, triple life and your wife, who is completely innocent and sweet, had no sign and no indication that you was out doing whatever it is that you was doing."
Tyrese also vehemently denied flirting with or disrespecting Gia.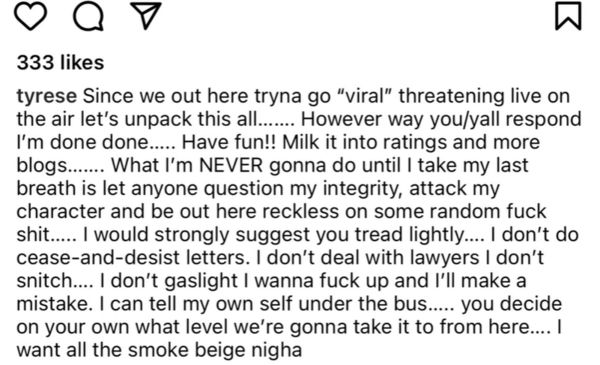 Discuss