The Fast & Furious spinoff featuring The Rock [Luke Hobbs] and Jason Statham [Deckard Shaw] seems to be moving forward.
The plan for the movie is to have Hobbs and Shaw form an unlikely alliance and get into adventures that are sure to be as speedy and angry as those in the main franchise.
These adventures probably won't include Tyrese's Roman Pearce character and the rest of the Fast & Furious team.
So Tyrese jumped on IG a few days ago to protest The Rock "flying solo" -- which might just set in motion a series of events that could end up forcing Tyrese back into the music game full time.
"If you move forward with that #Hobbs Movie you will have purposely ignored the heart to heart moment we had in my sprinter. I don't wanna hear from you until you remember what we talked about. I'm on your timeline cause you're not responding to my texts messages. #FastFamily is just that a family……We don't fly solo," he wrote in the now deleted comment.
Tyrese followed that up yesterday with a now-deleted Instagram post in which he softened his tone a bit.
"I want you to shoot [the spinoff] just not right now. "Didn't you see how huge #Fast8 was? It's because we announced and kept our release date bro...I never ever go public with private family issues. Once you go back I will delete every post...I'm doing this for the #FastFamily I'm loyal and I apologize for being loyal but damnit I am.'
Finally, he made this play for communication, which is still on his page:
This isn't the first time there has been social media disharmony among Fast & Furious cast members. Who could forget last year's notorious  "candy ass" spat between large men Vin Diesel and The Rock.
Here are more of the rambling public messages to the Rock that Tyrese posted on IG and then deleted.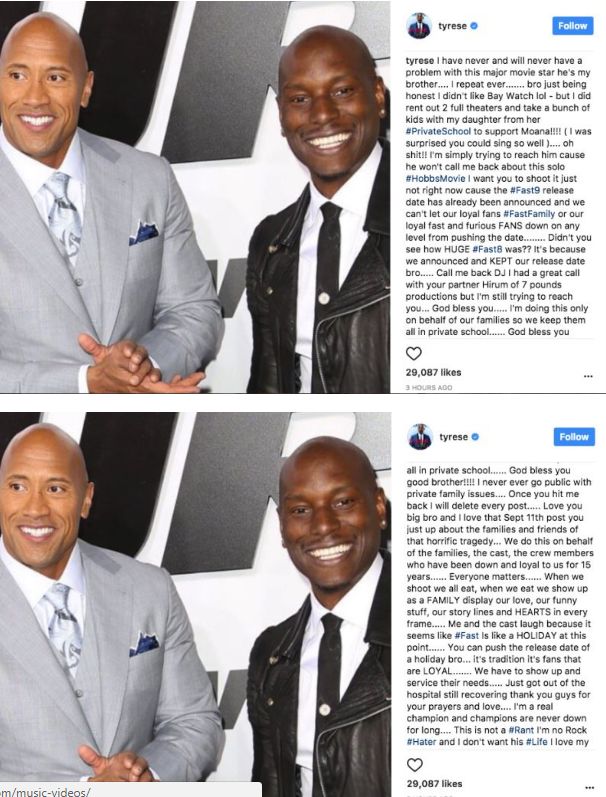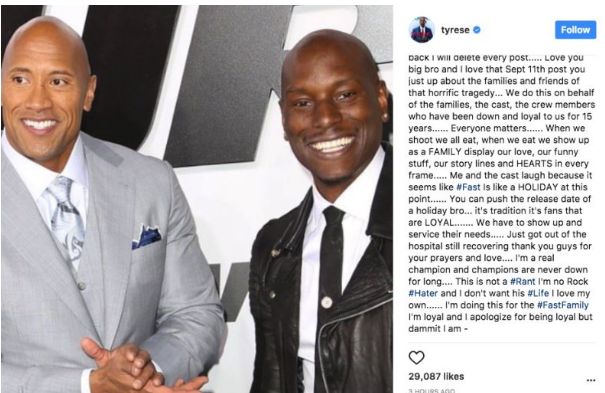 This doesn't seem like a good look for Tyrese. What do you think?
Discuss