Last night, Drake had something for everybody when he dropped the surprise album If You're Reading This It's Too Late.
But he had something extra for Tyga, whom he targeted in a verse in his new track '6 PM In New York.'
"I heard the lil lil homie talking reckless in Vibe It's quite a platform you chose, you should have kept it inside. Oh you tried, it's so childish calling my name on the world's stage. You need to act your age and not your girl's age."
The Vibe interview Drake refers to is the one from October in which Tyga called Drake "fake." The last line in Drizzy's diss references lil Kardashian Kylie Jenner, Tyga's 17-year old girlfriend.

Like everybody else, Tyga was listening to Drake's album late last night and he issued this response: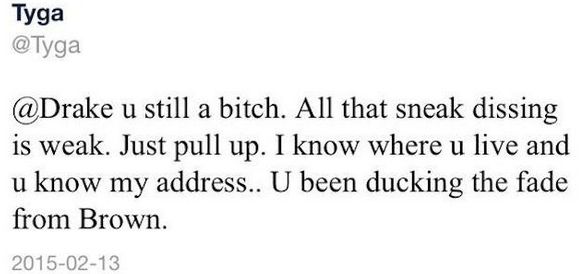 Yup, that's a screen shot because Tyga has since deleted the Tweet.
Maybe that's because his buddy Chris Brown is still on probation and shouldn't be doing any high profile fading. Or maybe because that wasn't exactly a "sneak diss" T-Raww just got caught with.
Whatever the reasons, it's still safe to say Drake and Tyga are not friends.
For the latest Hip Hop tracks and news, follow us on Twitter.
Discuss