The overarching theme of Beyonce's Lemonade project, both the HBO special and the album, seems to be that Jay Z cheated on her.
You ain't married to no average bitch boy, you can watch my fat ass twist boy, as I bounce to the next dick boy," she sings in 'Don't Hurt Yourself.' "He better call Becky with the good hair," she sings at the end of the track 'Sorry.'
Hov appeared at the end of the HBO film in a make up scene, so maybe all has been forgiven. But Twitter is less forgiving.
jayz at the #lemonade listening party like pic.twitter.com/5kDR7cMPLe

— Tracy Clayton (@brokeymcpoverty) April 24, 2016
If I ever see Becky with the good hair... We gon' fight. — Jackée Harry (@JackeeHarry) April 24, 2016
Jay Z caught sneaking back in after a night with Becky with the good hairhttps://t.co/fX1Lj1sn38

— Dan Soff [JOKUZA] (@Swagadore) April 24, 2016
When you fall in love with a Brooklyn nigga pic.twitter.com/vln3nGwJK4 — Cersei (@CrazyClarine) April 24, 2016
Well, Jay Z ahead of his time cus he already replied to all this 15 years ago on 'Song Cry'

— Adam (@bidam_II) April 24, 2016
BEYONCE: I'm gonna air you on TV in front of everyone. JAY-Z: aight. BEYONCE: Just destroy you. I want you to make a cameo JAY-Z: yes ma'am — shrillary tintin (@theshrillest) April 24, 2016
everyone at jay-z after #LEMONADE pic.twitter.com/nFtheADjGx

— drakes daughter, vic (@zraking) April 24, 2016
Jay Z: so how does it start? Beyoncé: well first I'm going to throw shade pretty directly at you pic.twitter.com/27ePOaVlyd — Will Miles (@MrWillMiles) April 24, 2016
Or another way to look it at this is that Hov is the big winner here. He cheated on his wife. But she's still with him, and his infidelity is just going to bring more streams to TIDAL.
As for Becky with the good hair? A lot of folks think it's Rachel Roy. Dame Dash's ex-wife acknowledged such on IG.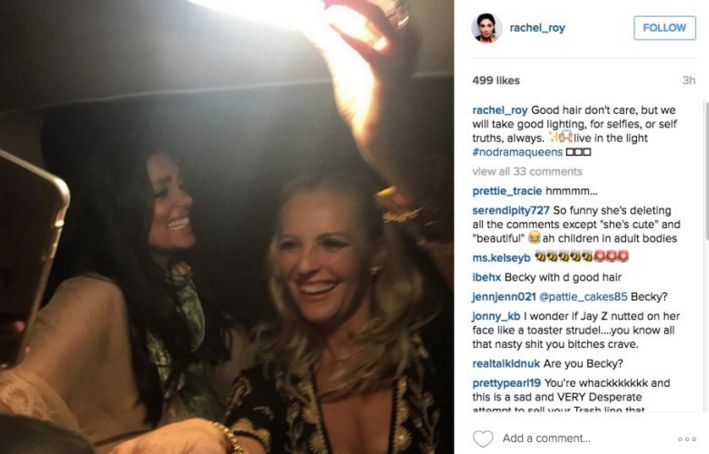 Of course the BeeHive struck.
Rachel Roy's comment section in shambles.....#beehive pic.twitter.com/Y6YcBvS8zS

— Geespin (@geespin) April 24, 2016
Discuss