Rick Ross doesn't mention Drake's by name in his new track 'Color Money.'
But  he drops some bars that sound a lot like a diss or even a threat to Drizzy, who mixed it up with The Bawse's MMG solider Meek Mill over the summer.
"My lil homie made a million on his girl tour, We back to back and down to whack a nigga unborn, Miami niggas got them changing all the gun laws, So run Forrest got some shooters and they dying too, I got more money than that pussy that you're signed to
Twitter has certainly decided that Ross was going after Drake (and Lil Wayne) in those lyrics. Check out some the reaction below.
Tyga Meek and Rick Ross are so fed up Drake been on top since 2009 that they gotta team up to get him outta here like they Powerpuff girls

— D.Loving (@BluJayss_) December 2, 2015
Rick Ross is dissing Drake like he won't make a 35 slide power point presentation diss song performance for him too. pic.twitter.com/iQywp1NM9l — (@Sibkiddtheworld) December 2, 2015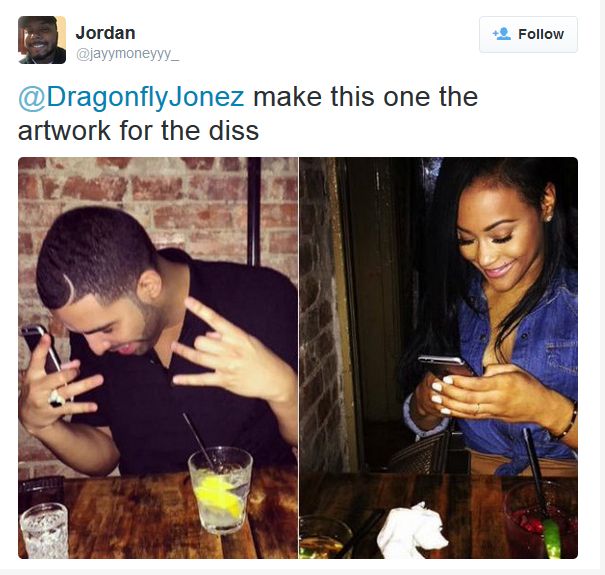 Ross didn't learn from what happened to his "lil homies" career after he dissed Drake lmao

— beatriz (@balvarezzzz) December 2, 2015
RICK ROSS AND DRAKE ARE ONE OF THE GREATEST COLLABS IVE HEARD I HOPE THEY STOP BEEFING — Uncle Tom Foolery (@FreebandzAjani) December 2, 2015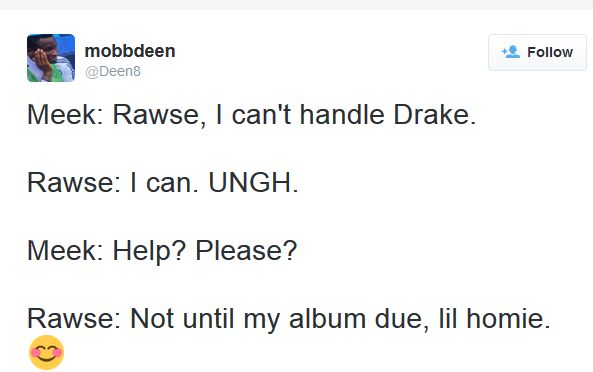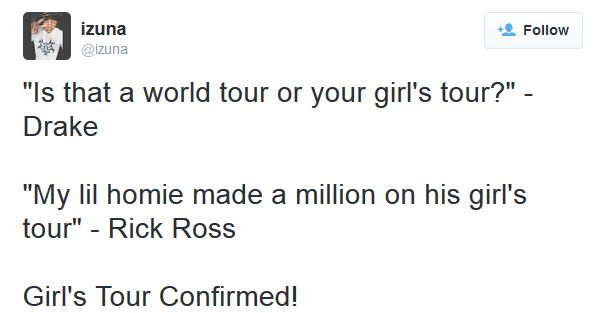 @RappersSaid Rick Ross worth 28 mil ...... Lil Wayne is worth 150 mil ... no sure about that more money thing

— Rcoletti (@Richardcoletti) December 2, 2015
Ross is going to be eaten alive by lil Wayne mark my words — Big Justin Bristol (@ElPabloMilf) December 2, 2015
The fakest boss that you seen thus far End the rap career & just stick to Wing Stop Another break from views will give yo camp a big loss

— Norm Kelly (@norm) December 2, 2015
Rick Ross dissed Drake and Wayne? pic.twitter.com/yCSgMUtIeG

— Chulo (@50ShadesOfPetty) December 2, 2015
So Rick Ross want that 3peat? He need to go eat some pears and leave Drake and Lil Wayne alone.

— Tia (@kvng__tia) December 2, 2015
Discuss