The Los Angeles Clippers have traded Austin Rivers to the Washington Wizards for center Marcin Gortat.
The trade makes sense. Both players make about the same amount for the 2018-2019 season and are free agents after that. The Wizards needed a good third guard to play behind John Wall and Bradley Beal and the Clippers need a big man, now that they are likely trading DeAndre Jordan.
But there's a catch which makes it an unusual deal. Austin Rivers' dad is the Clippers coach Doc Rivers. While Doc's no longer also the team's GM, he would likely have been consulted on that particular player personnel decision.
Here's how Twitter is reacting to the deal.
The Los Angeles Clippers are trading guard Austin Rivers to the Washington Wizards for center Marcin Gortat, league sources tell ESPN.

— Adrian Wojnarowski (@wojespn) June 26, 2018
Austin Rivers on the phone with his mom right now pic.twitter.com/nsc2wswuxJ

— shamus (@shamus_clancy) June 26, 2018
Austin Rivers when he turns up at Washington practice and Scott Brooks is running the show.. pic.twitter.com/cDGTrWRCtC

— Kane Pitman (@mkebucksaus) June 26, 2018
Austin Rivers: "Dad, I really appreciated the opportunity you gave me last season. But any chance I could get more playing time?"

Doc Rivers: pic.twitter.com/w0AKX4Kgs5

— MVP (@ThaBestOps) June 26, 2018
Austin Rivers isn't well liked by his peers and thinks he's much better than he is

Basically what I'm saying is that he'll fit in great in Washington

— Carter Rodríguez (@Carter_Shade) June 26, 2018
oh i am HERE for a John Wall-Austin Rivers beef. HERE. FOR. IT.

— Nekias Duncan (@NekiasNBA) June 26, 2018
Austin Rivers looking at his dad like ... pic.twitter.com/PX4L2Q6N8B

— Steven R. Walker (@Steve_R_Walker) June 26, 2018
Doc Rivers trying to stop the Austin Rivers trade like... pic.twitter.com/wjzuenv8qM

— NBA Memes (@NBAMemes) June 27, 2018
*Austin rivers doesn't get Doc a Father's Day gift*

Nine days later: pic.twitter.com/VTG8IDVI3y

— Stri:(a (@StrikaNation24_) June 26, 2018
Doc Rivers aint gotta worry about Austin Rivers coming to visit him at the rest home... "Remember that time you traded me for Zangief from Street Fighter?"

— 73-9 and they LIED (@CuffsTheLegend) June 26, 2018
Austin Rivers isn't bad btw. It's just that actively rooting for him requires surrendering all your pride and dignity

— Andrew Sharp (@andrewsharp) June 26, 2018
When we trade for Austin Rivers.... but trade away Gortat pic.twitter.com/Q9Pg8wwSDw

— The....Jalen Hunter (@YesImfromDC) June 26, 2018
And, always remember, this classic: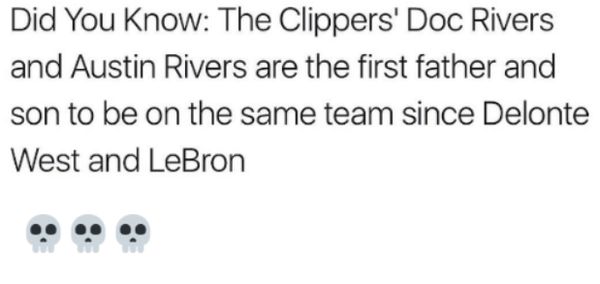 Discuss