We regret to inform you that Drake and Eminem probably aren't about to start going it at.
Yesterday, Ebro made it sound like they might. However, late last night the Hot 97 personality conceded he was just trying to start shit.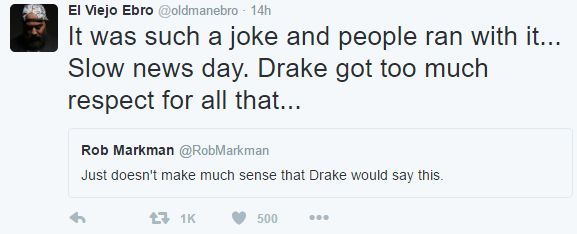 Ebro isn't necessarily denying Shady may come at Drake on behalf of his Slaughterhouse boy Joe Budden. But he is conceding he made up the part about Drake daring him to and already having something for Em.
That was the part that got Twitter really excited. Check out the best reactions to the Drake-Eminem beef that will probably never be.
Eminem: "You want a verse on this meek?" pic.twitter.com/4gEMZKguKF

— $ (@shaunlaflare) August 3, 2016
EMINEM BEEN DOIN GUIDANCE COUNSELOR / NAVY SEAL MONTAGE MUSIC FOR A DECADE STRAIGHT BUT HES GONNA END DRAKES CAREER? pic.twitter.com/U94wwmTldM — The Kid Mero (@THEKIDMERO) August 3, 2016
Eminem dissed his own mum, talked about murdering his wife and this flower boy who needs ghost writers @Drake thinks he has a chance. Tears.

— EMINEM = GREATNESS (@MOURlNHOED) August 3, 2016
Y'all really think Drake radio raps stand a chance against Eminem raw, unfiltered, nothing is off limits disses? pic.twitter.com/tWqFxIvTnU — Phoenix✨ (@Drebae_) August 3, 2016
RT @marshallsslut: here's a list of people who beefed with eminem and their career survived pic.twitter.com/dj67E27fMS

— Amateur Mercenary™ (@SwaggSoTaceTee) August 3, 2016
The Game knows not to battle Eminem, so @Drake should take his advice pic.twitter.com/9V8N93iFQm — Keith (@RespeckTheStar) August 3, 2016
How Drake fans think Eminem would sound on a diss track https://t.co/MT1OK9BYrM

— Kenny Knox (@KennyKnox97) August 3, 2016
When @Eminem heard Drake is thinking of dissing him. #Shady pic.twitter.com/G29sUm3YZq — Ghost sB (@Forever1Ghost) August 3, 2016
Eminem the type of rapper that'll have the diss and the response to your diss before you even diss him.

— Fresh Prince (@DonxFigueroa_) August 3, 2016
Remember when Ja Rule dissed Eminem ? Look how that went. This generation doesn't even know who Ja Rule is — IGZ (@igzrap) August 3, 2016
before and after you beef with Eminem pic.twitter.com/HejWstkOgM

— Mr. Poopy Butthole (@Suleau_) August 4, 2016
When you trying to support #Drake but you know what #Eminem can do to someone career. pic.twitter.com/lGzUdLtyAH — Fred (@sielefred) August 4, 2016
Imagine thinking you can beat Eminem to a rap battle when there is an entire movie based on why NOT to battle him pic.twitter.com/6K1VwLX7H3

— Hood Vines (@TheHoodVines) August 4, 2016
Discuss