We all had a good laugh when some thug tried to pull  ILOVEMANKONNEN off of the stage and give him a beat down.
It was especially funny because it happened on a Tuesday, and ILOVEMANKONNEN was singing his ubiquitous club hit when it did. We also didn't feel guilty about our laughter because the portly OVO signee wasn't injured, and the assailant fled once  ILOVEMANKONNEN's boys jumped in.
Now there is a rumor going around that Troy Ave sent the assailant to attack  ILOVEMANKONNEN. The Brooklyn emcee would do such a nasty thing because last month ILM (we're calling him that now) dissed all of the remixes of 'Tuesday', including Troy Avenue's.
That led to this Twitter exchange: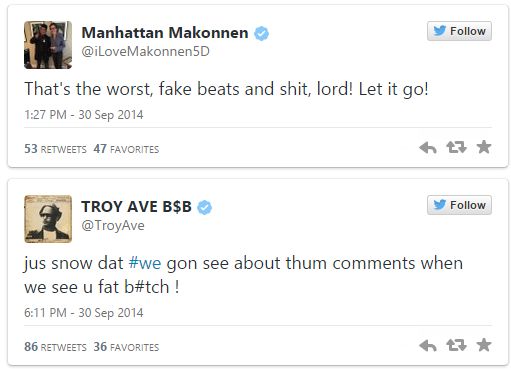 Good job, Troy Ave. Put your motive right there on social media for all to see. Luckily for him nobody tried to off the big fella.
Anyway, Troy's manager Hovain Hylton now says his client had nothing to do with what happened on Tuesday.
"I left all of that negative shit alone," Hylton told STASHED. "[We] were trying to get him on a remix of 'All About The Money.'"
"It's just wack that any time something negative happens now, they think of us," Hylton said. "People are going to believe what they will, but BSB had nothing to do with that," he concluded.
We are inclined to believe him. If everybody followed up on their Internet threats there would be so much fighting in the clubs and the streets that you'd have to stay inside with a stash of canned goods to avoid the carnage.
According to TMZ, the venue knows the identify of the attacker. He is being described as a disgruntled fan and has been banned for life. No mention of any Troy Ave affiliation.
Discuss