Trippie Redd recently got at Bow Wow and claimed that nobody from their shared home state of Ohio respects Bow. Trippie first dissed the former 106 & Park host last week in a clothing store, and this time he issued a threat.
"You a bitch, and you don't run this motherfucker over here,"said Trippie in a web video. "You're not from Ohio. Don't try to try me, nigga ... When I see you again like when I seen you and stood on your car, bitch ass nigga. Also, not forget how you got your ass beat behind the stage for talking shit, so don't talk no shit to me, or it'll be the same thing ... I speak for everybody from Ohio. That's how everybody feel. Everybody feel like you not from this motherfucker, 'cause you ain't help nobody. You ain't did shit for nobody, and you claim Atlanta. "
Bow Wow — who went on a huge, sad Twitter rant earlier this week — responded to Trippie and said he wouldn't beef with him because of his age.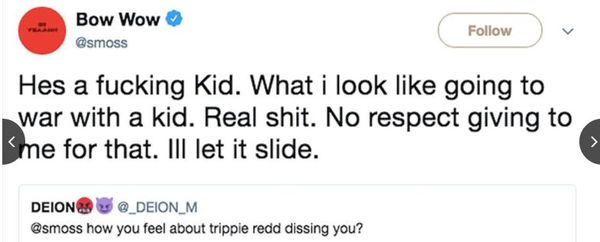 Why do you think Bow has never really claimed Ohio and repped Atlanta instead?
Discuss