Travis Scott's promo for Astroword has been a highly visual affair.
That includes the splashy, colorful album cover, which comes from legendary pop-photographer David LaChappelle.
Here's the version of the cover that Scott posted last night.
It happens to be a little different than the version of the cover LaChapelle posted last night.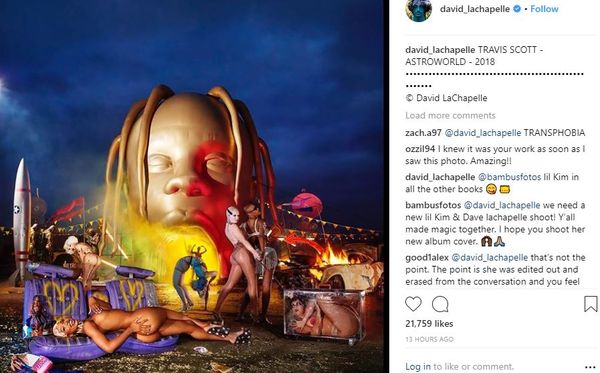 The difference is what's going on to the right of the rocket. In LaChapelle's version, famous transgendered model Amanda Lepore is showing everyone her booty. That's been shopped out of the Scott version.
Lepore commented on her exclusion:
It was great being part of @david_lachapelle s incredible photograph of @travisscott s albulm cover but I'm curious why I'm not on the picture @travisscott posted 💋❤️💄 #amandalepore #glamourgirl A girl can't help it❗️Too distracting for the eyes ❗️Upstaged everyone in the photograph ❗️Oh well........... I love @david_lachapelleand @travisscott ❗️Love and kisses 💋❤️💄
Why do you think Scott posted a different version? We guess we'll see which version prevails when the album drops this Friday.
Discuss