For a few hours last night, the Travis Scott featuring Young Thug and Quavo track 'Pick Up The Phone' was on Scott's Soundcloud.
But it was taken down by his label 300, something Scott anticipated when he posted the song.
"THIS SONG WAS SUPPOSE TO GO TO ITUNES BUT LABELS ARE MAKEING THIS MORE COMPLICATED THAN IT ACTUALLY NEED TO BE THIS WAS GONA BE MY SINGLE BUT NOW IM GIVING A WAY FOR THE KIDS," he wrote in his Soundclous description. "P.S. THEY MIGHT TAKE THIS DOWN CAUSE THEY DONT WANT KIDS TO EAT. FUCK IT GOOD NIGHT. BIRDS IN THE TRAP SING MCKNIGHT SOON."
This morning Scott railed against 300 in a Tweet storm, which started by referencing Kanye West's new GOOD Music compilation track 'Champions.

Check out LeFlame's rage:
I WROTE CHAMPIONS LIKE 3 YEAR. I WASNT GONNA USE IT THIS NIGGA YE IS A VISIONARY

— TRAVIS SCOTT (@trvisXX) June 3, 2016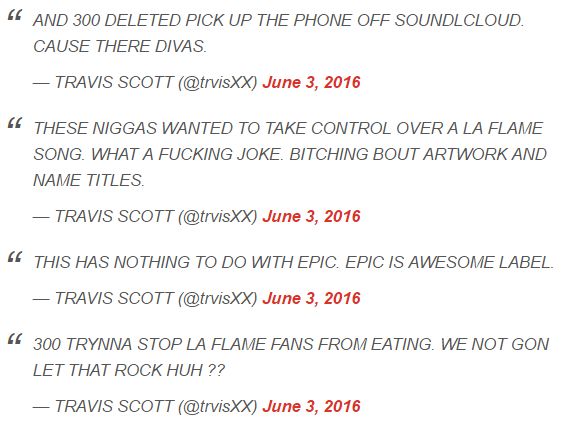 THATS WHY IM SO GLAD YE DROP CHAMPIONS. NIGGA WE GOT SMASHES FROM EVER ANGLE. NEVER GON STOP. — TRAVIS SCOTT (@trvisXX) June 3, 2016

As you can see, Scott deleted most of the Tweets. Now he's trying to work things out with 300 boss Lyor Cohen, who is known for being tough on his artists.
LOVE TO QUAVO AND THUG. I JUST WANT THIS SONG TO COME OUT THE KIDS NEED THAT

— TRAVIS SCOTT (@trvisXX) June 3, 2016
ON THE PHONE NOW WITH LYOR TYRNNA FIGURE THIS OUT J — TRAVIS SCOTT (@trvisXX) June 3, 2016
THANK U LYOR. FOR FINISHING FOR ME. THANK U 300. PICK UP THE PHONE DROPPING ON ITUNES IN ANY MINUTE.

— TRAVIS SCOTT (@trvisXX) June 3, 2016
Discuss