Future's been on a roll lately.  He's been dropping all kinds of mixtapes with more on the way, and has two upcoming tours, one with Drake.
Fans of the 'Fuck Up Some Commas' emcee -- the FutureHive -- have been honoring their man's productivity with a series of funny memes. One of them depicts Future as Jesus with other rappers, including his 'High Fashion' collaborator Travis $cott, looking up at him in reverence.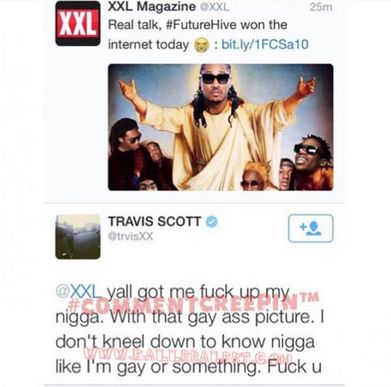 Well, $cott caught wind of that photoshop when XXL posted it, and responded quite aggressively to the implication.
"@XXL ya'll got me fuck up my nigga. With that gay ass picture. I don't kneel down to know nigga like I'm gay or something. Fuck U," Scott wrote in a comment.
Since he brought up the gay thing, it's important to note that $cott was just on tour with Young Thug.
Discuss