The judge who gave Meek Mill two-four years for probation violations is reportedly under FBI investigation for trying to get Meek Mill to sign with local Philly manager Charlie Mack instead of Roc Nation.
TMZ has now obtained transcripts of a probation hearing in 2014 which suggests Judge Genece Brinkley did have a relationship with Mack, and well may have tried to steer Meek Mack's way.
This is a conversation between prosecutor Noel DeSantis and Meek's attorney at the time Gary Silver.
-- THE COURT: "Okay. The other thing that was raised that I have to address is this issue about him signing parole papers, probation papers that he's not going to be around convicted felons ... and the rules of probation state he can't be around convicted felons."

-- DeSantis: "Your Honor, [Meek]'s not supposed to be around anyone who is under supervision and be around known felons. Your Honor made an exception back in the day with the management to Mr. Mac [sic]. That was the only exception that you made."
Meek's lawyer Joe Tacopina says this is proof of an improper relationship between Mac, Brinkley, and Meek.
"Another first in my 26 years of practice," he told TMZ. "Just shocking."
Mill ended up signing with Roc Nation for management, and also refused Brinkley's request to remake the Boys II Men track "On Bended Knee" and dedicate it to Brinkley.
Meek's legal team believes this angered Brinkley and influenced her decision to ignore the prosecution's recommendation that Meek receive no jail time and instead slap him with two to four.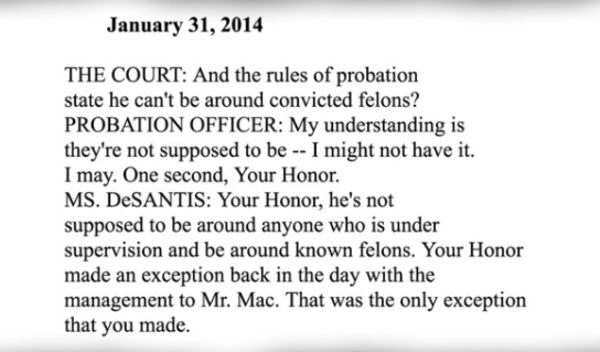 Discuss