Last night a screen shot  of a tracklist for a new Kanye West album, set to drop on November 24, began to circulate. (Update below.)
The song titles and the guest stars -- which include G.O.O.D. Music affiliates and old buddies like Jay-Z and Bon Iver -- are very much in line with what one would imagine a Kanye album to be. But so far there has been no confirmation from Kanye's camp.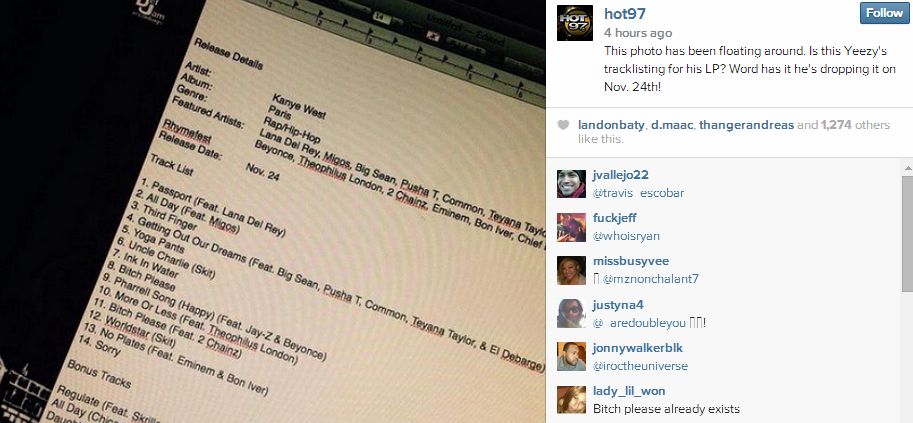 One thing that makes us question the accuracy of the photo is that the November 24 drop is the same as Beyonce's box set. It would seem odd that Mrs. Z and Kanye would release albums on the same day, especially since Bey is allegedly on Kanye's joint.
Still, that is Black Friday week.  So maybe they figure there are enough Christmas season dollars for everybody.
Peek the tracklist below, and let us know what collaborations you are excited about.
1. 'Passport' (Feat. Lana Del Rey) 2. 'All Day' (Feat. Migos) 3. 'Third Finger' 4. 'Getting Out Our Dreams' (Feat. Big Sean, Pusha T. Common, Tenaya Taylor & El Debarge 5. 'Yoga Pants' 6. 'Uncle Charlie' (Skit) 7. 'Ink in Water' 8. 'Bitch Please' 9. 'Parrell Song (Happy)' (Feat. Jay-Z & Beyonce) 10. 'More or less' (Feat. Theophilus London) 11. 'Bitch Please' (feat. 2 Chainz) 12. 'Worldstar' (Skit) 13. 'No Plates' (Feat. Eminem & Bon Iver) 14. 'Sorry'
Bonus track Regulate (Feat. Skillrex)
Update 5 PM: According to Kayne's rep, the leaked tracklist is "bogus." So we guess we'll know for sure when the album does drop.
Discuss