Beyonce surprised us with her last album.  Will Mrs. Z do it again?
There is a tracklist circulating for Beyonce Volume 2, which is said to be dropping on iTunes on November 14 and then on November 25 as a four disc CD.
Featured artist on what appears to be a 25-track album include Jay-Z, Drake, Frank Ocean, Nicki Minaj, Justin Timberlake, Rihanna and Blue Ivy.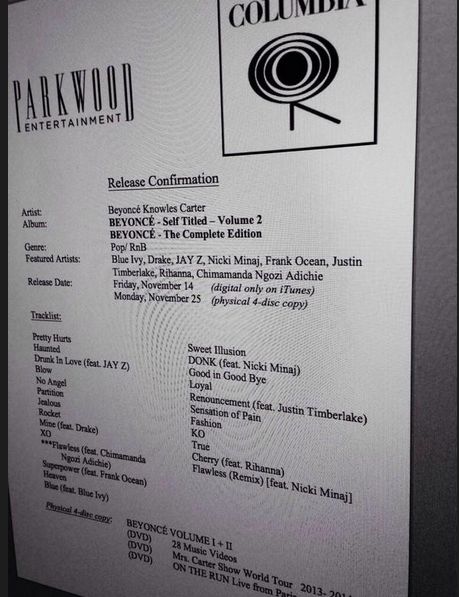 As you can see, the album includes a mix of new songs and old hits.
So far Beyonce's camp has not confirmed the leak, and it may well be a hoax. However, we do know that a Beyonce and Rihanna collaboration has been rumored for months, and the album's purported November release date may be why Minaj pushed The Pinkprint back from November 24 to December 15.
Surprise 2013 album Beyonce was the fastest selling in iTunes history and has moved 3.5 million units worldwide to date.
However, Taylor Swift's just dropped album 1989 is actually on pace to top Beyonce is first week sales.
Do you think this leak is real? And if it is, can Bey regain her sales crown?
Discuss