Last year, Rick Ross criticized Tory Lanez for responding to the allegations he shot Megan Thee Stallion by dropping his Daystar tape.
In the back and forth that followed, Ross said he bought Tory a smart car to make up for his project flopping.
"I bought a car for Tory Lanez...heard ya shit just went double acrylic on Dat Piff" 🤣🤣🤣🤣 @RickRoss funny as FUCK! pic.twitter.com/U9Ol3mRc9Y

— Banye Bardashian (@TaronChandon) September 25, 2020
While that was just a gag, Tory decided to take it seriously and demanded the car.
That was almost a year ago, and Tory still doesn't have his ride.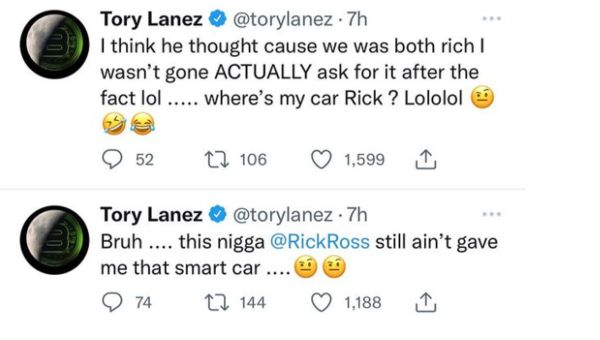 "Bruh ... this nigga @RickRoss still ain't gave me that smart car," he typed. "I think he thought cause we was both rich I wasn't gne ACTUALLY ask for it after the fact lol ... where's my car Rick?"
Discuss