The Hip Hop world is lending a big helping hand to the folks in Flint. Whether it be The Game, who made a big deal about his generous donation, or Pusha T, who's been helping get clean water to the city more anonymously.
Timbaland tried to help, too. But his contribution got messy when he refused to perform at a Flint benefit at the Blu nightclub in Detroit even though he was on the bill for a DJ set.
The reason?
The club owner says it's because the venue didn't carry Tim's buddy Jay Z's Ace of Spades champagne brand, and instead served him and his crew Dom.
"They had about 15 bottles of liquor and champagne, which is extremely excessive especially for a charity event," Club co-owner Mitchell Jaworski. "They seemed more concerned about getting every drop of liquor."
Jaworski went on to say Timbo failed to tip, and his entourage exceeded their hospitality rider.

Timbaland did eventually go up on stage. However, those at the event say he just nodded his head while another DJ played.

According to the New York Daily News, Timbo addressed the incident in Instagram comments.
"U look a smart girl," Timbaland wrote in an run-on Instagram apology. "I want everybody to think I wasn't suppose to perform think about it." "Why would I do that see what I need to do for now on call these promoter out that not rite for the fans and me now I've gave money and came and they ask me at las min sorry to the people who lied." He continued in another comment: "Im the realest and I don't let people down I'm here to uplift not disappoint so I'm sorry for the confusion."
Since that was a bit hard to parse, Timbaland's rep made another attempt at explaining what happened:
"Unfortunately, the statement made by the promoter in Detroit is simply not true," Timbaland's rep says in a statement provided to Billboard. "Timbaland is an "extremely generous person who agreed to a much lower fee for this event to raise money for the Flint, Michigan's water crisis," the statement continues. "The promoter was fully aware that this was not a full band performance on stage, yet still promoted it as such. The club was still able to raise money for charity, which was our goal in doing this event all along."
The event did end up raising $3,000 for Flint.

As for who promoted what? This is what Timbaland put on his IG page.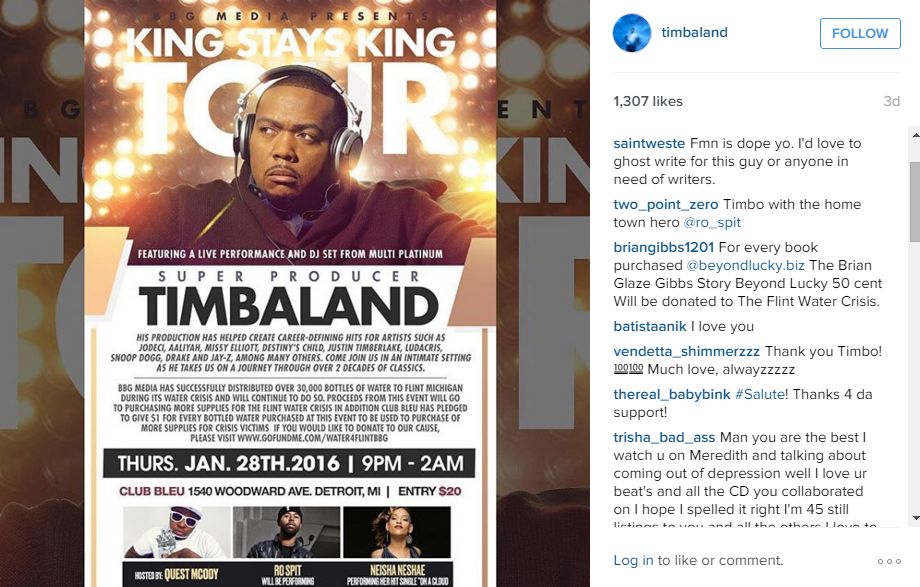 Discuss