T.I. said a little too much on the podcast Ladies Like Us.
During the chat, he revealed he's been taking his daughter Deyjah to the gynecologist for years for annual hymen checks
"Deyjah's 18, just graduated high school now and she's attending her first year of college, figuring it out for herself. And yes, not only have we had the conversation, we have yearly trips to the gynecologist to check her hymen."
Tip then seemed to confirm he's not kidding discussing specifics of the scheduling of the appointments and the appointments.
T.I. acknowledged that the doctors tell him a hymen check can't really confirm virginity but told the podcast he just doesn't care.
"Just check the hymen, please" Tip says he tells the doctors "Just give me the results."
According to T.I., Deyjah keeps passing the check.
Folks on Twitter are not impressed with Tip's ritual:
This is absolutely disgusting and perverted and vile and ignorant and just plain wrong. TI is a sick, controlling narcissist and there is absolutely NO way Deyjah, her mother or any woman in TI's life should be okay with this. https://t.co/tDjVdAoSom

— Candice Marie Benbow (@CandiceBenbow) November 6, 2019
as a mother, ain't no fucking way I'd let my husband, father of my child, whatever take my daughter to the doctor every year for a fucking hymen check? I'd knock all this shit over.

— KH (@thecoolestmama) November 6, 2019
A broken hymen isn't even proof of lost virginity 😂 this nigga T.I. Living in the 1800's

— Mychaél Meyerz (@tweets_by_dre) November 6, 2019
This is disgusting and horrible.

Rapper T.I. says that he takes his daughter to the gynecologist to make sure her hymen is still intact!

Even after her 18th birthday (not that it makes it ok before her 18th birthday)

Horrifying https://t.co/hQwSSsqJER pic.twitter.com/59rSMTDKfz

— Yashar Ali 🐘 (@yashar) November 6, 2019
T.I, a man who publicly & infamously cheated on his wife on a regular basis with no respect for his family while being accessible community dick, made himself the protector of his daughter's hymen?! Wont let her fuckin ride a bike to keep it intact? This man is a sick psychopath. pic.twitter.com/TZ2sjwxbPZ

— farxiyo (@hausofriya) November 6, 2019
What do you think?
Update: Deyjah thinks dad needs to chill because she's been liking Tweets like these: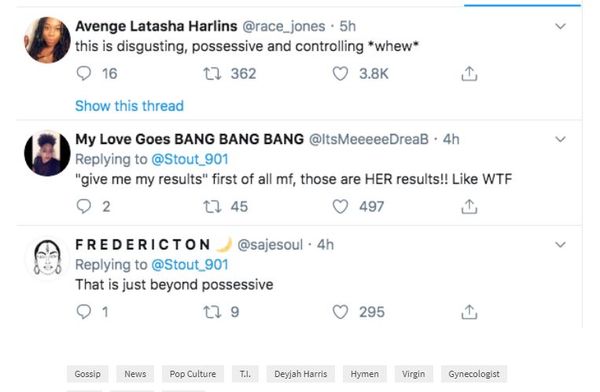 Discuss