A confrontation with Kanye West made Van Lathan a TMZ star. A confrontation with co-worker Mike Babcock led to Lathan's firing from the gossip behemoth.
While there is still, oddly, no video of what happened between Lathan and Babcock during a TMZ Live session, some still images have been hiding in plain sight on a Twitter page. In them, you can see Lathan coming up from behind Babcock and putting his hands on his neck.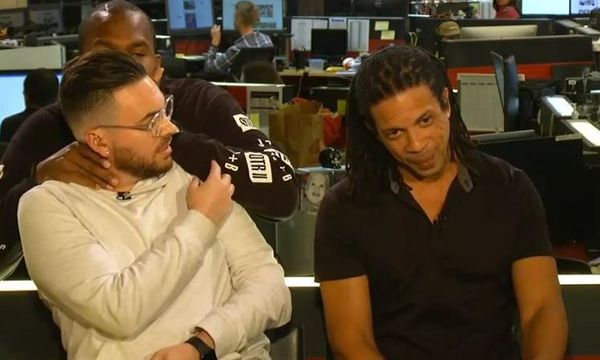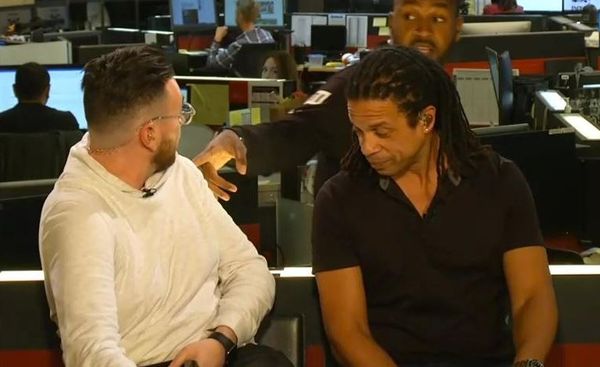 Page 6 reports the disagreement was about Ellen and George W. Bush hanging out at a football game.
A source who was in the room tells us that Lathan was finished shooting and was on the other side of the room before he decided to return to confront Babcock. "He walked all the way across the room, came from behind [Babcock] and grabbed him," said the insider. Meanwhile, we've learned more about the segment that led up to the Oct. 8 incident. We're told that the pair had been discussing the infamous shots of Ellen DeGeneres talking to George W. Bush at a football game.

According to someone who's seen the tape, Lathan said something to the effect of, "I'm going to speak now," and Babcock replied with something to the effect of, "You're not telling me when I can talk and when I can't." Apparently Lathan was upset during the segment.
According to Page 6's sources, Lathan wouldn't have been fired if he didn't put his hands on Babcock. A tape of the segment obviously exists. Perhaps the lawyers are preventing TMZ from releasing it, but we'd imagine somebody else has it.
For now, we have these images:
The best part about the Van/Babcock exchange was the look on Edward's & Alexia's faces like "Oh shit! It's about to go down!" 🤣 🤣 🤣 🤣#TMZLive @TMZLive @VanLathan @mikejbabcock @charleslat pic.twitter.com/2oTLWkY1vK

— David Thielen (@DavidThielen1) October 8, 2019
Discuss