The Game fell out with his older brother, the rapper Big Fase, many years ago.
The issue was money. Game says he cut financial ties with Fase because he was using him, while Fase argues Game ditched him when he got big even thoug Fase helped him find that success.
During Game's recent Drink Champs interview he updated his relationship with Fase, explaining he still doesn't F with his blood.
Perhaps that's why today Fase hit at Game with an Instagram post suggesting that Game did sexual favors for Puff Daddy in exchange for help with his career.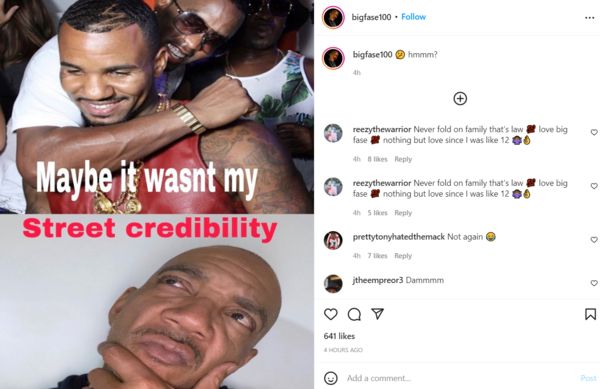 "Maybe it wsn't my street credibility," Fase captioned an image of Puff hugging Game from behind.
Game and Diddy are known to be tight. In 2015, Game confirmed that he once bought Puff a Ferrari.
"I ran with Diddy before I ran with Dre," he told TMZ. "I was running around with Diddy, but we never like, you know, struck...we never worked on an album or nothing, so I didn't sign to Diddy, So, when I told Diddy that Dre was trying to sign me, the Diddy was like, 'go do your thing, men.' And so...that ended up being my whole career. So I was always grateful to Diddy didn't like, do no bullsh*t. So, I feel like I owe Diddy something, so I bought him a Ferrari men! It was just a Tuesday."
Do you think Fase knows that there was something extra about Game and Puff's relationship or is he just bitterly lashing out?
Discuss