Before he lived in a federal penitentiary, Tekashi 6ix9ine responded and responded quickly whenever another rapper kicked dirt on his name.
Now that he does, he can't.
But don't worry, his girlfriend Jade is picking up that slack. She jumped on Instagram Stories last night and blasted "washed up" rappers who are talking loosely about 6ix9ine.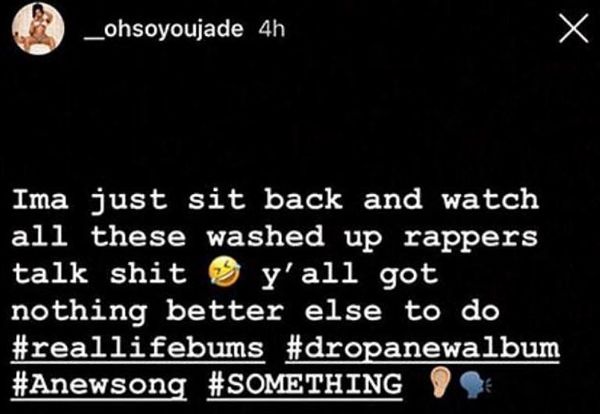 "I'm a just sit back and watch all these washed up rappers talk s***. Y'all got nothing better else to do. Y'all clowns got too much time on ya hands. F*** the Instagram s*** y'all bitches and n***** be real life broke," she typed.
It sounds an awful lot like those comments are directed at Snoop Dogg, who said this about 6ix9ine's rat turn a couple of days ago.
"N*ggas is bustas, man. "The era I come from, you couldn't tell on a n*gga. I look like your auntie," Snoop said, referencing the scarf covering his hair. "But that n*gga out there acting like your auntie telling on n*ggas. Your snitching, working with the government. After the government shutdown, the n*gga decides to work with the government."
Discuss