Lil Durk has a message for all of his opps and social media followers.
"Ya don't slide for ya mans don't kick no killer sh*t our way n*ggas bitches fr .. the evil side ... talk up," Durk typed on IG Live.
Not everyone is going to understand what that meant, but Tekashi 6ix9ine -- mega-troll and tormentor of the O-Block -- thinks he gets what Durk was saying and he turned the message right back around at him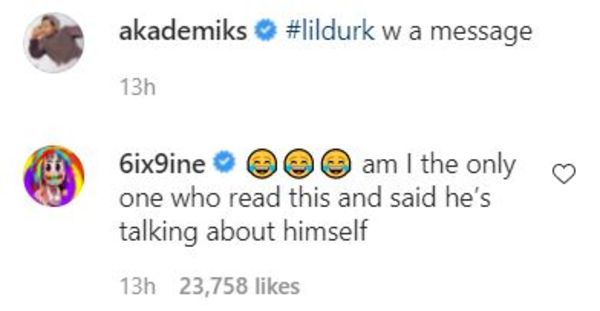 "Am I the only one who read this and said he's talking about himself," 6ix9ine commented on DJ Akademiks page, and tens of thousands agreed.
Will 6ix9ine ever pay a price for all the games he plays with Chiraq, or are those streets a myth?
Discuss