Tekashi 6ix9ine had some words for 50 Cent, and the G-Unit boss shot back.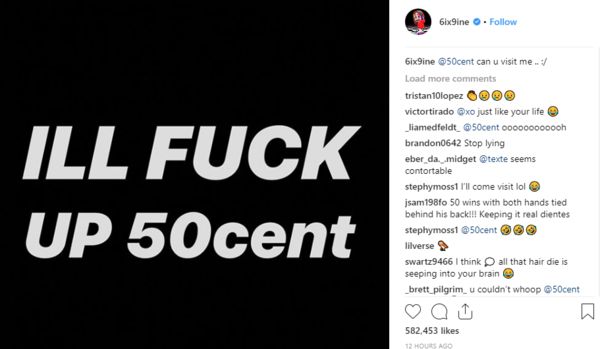 "I'll fuck up 50 Cent," wrote Tekashi.
50's response seemed to be a mixture of seriousness and joking around.
"Fuck, they are turning my son against me," he wrote. "I told him I'll slap the color out his hair, then knock the tattoos off his face but I didn't mean it. You know he thinks he's me. SMH. I wasn't this bad before I sold 30 million records."
The aggressive exchange between both rappers really isn't out of the ordinary since they've been throwing playful shots at each other for a while.
Like when Tekashi told Fif he was the King of New York, or when he mocked 50's 'In Da Club" video. 50 also clowned Tekashi after he missed one of his court dates and had something to say about the Brooklyn rapper's video shoot with Kanye West and Nicki Minaj getting shot up.
Discuss