Earlier this year TDE posted a vision board that included all of their releases for 2016. There were projects from the label's established artists like Schoolboy Q and Ab-Soul, and there were also projects from two "John Does".  It appears that one of those mystery artists is Chicago's Lance Skiiiwalker.
Today, all the members of TDE tweeted the same tweet: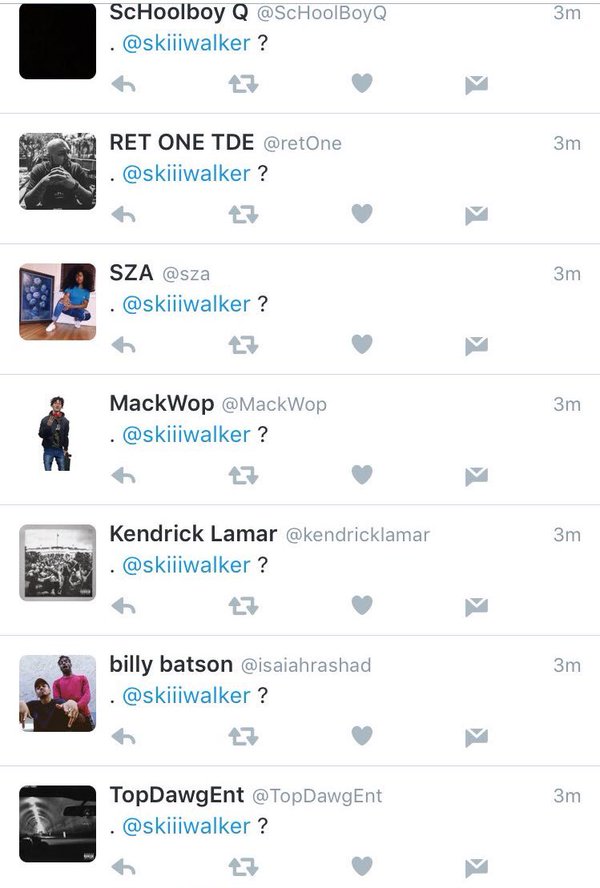 Skiiiwalker has worked with Jay Rock on "Money Trees Deuce" and "Telegram."
Here's more background information on Skiiiwalker's prior group and former name courtesy of Fake Shore Drive.
Skiiwalker is Johnny Rocket. From Chicago group The Rocketeers. Yes, this was a Chicago group from the early days of FSD — around 2008 or 2009. It was a duo consisting of D-Win and Johnny Rocket — both talented artists rising in the Chi's crowded scene. D-Win was the rapper, while many of the beats and vocals were handled by Rocket. They were dope. They even participated in our citywide cypher with Leaders and Enstrumental back in 2009. It was called The GO! Experiment. The group would eventually break up, but not before Johnny Rocket made his way to LA to link with Kendrick and TDE. Obviously there's a bigger story here — how the hooked up, what his plans are, is he dropping an album, etc. But one thing's for sure…he's definitely rolling with Kendrick.
One John Doe down, and could the other be Kembe X? He's been seen around the TDE camp and is managed to Moosa (who is TDE management). We'll find out in the coming months.

https://twitter.com/KEMBE_X/status/730530418001240064
Discuss