Earlier this week, T.I. said he had severed his ties with Iggy Azalea.
Azalea was completely blindsided by Tip's remarks, which were made on Ebro in the Morning. So the Australian import  got on Twitter and predicted her boss would soon clear things up: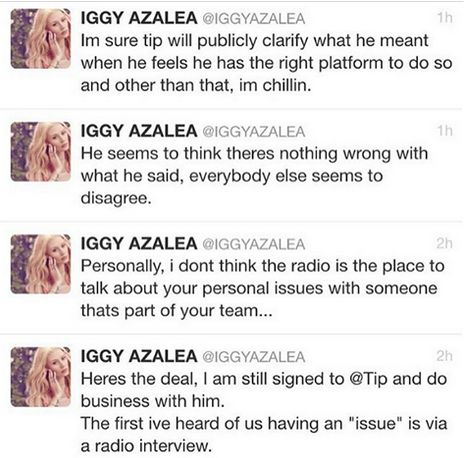 It turns out she was right. Today, T.I. clarified his remarks to The Associated Press:
"That's still my partner. Her life has taken her in a different direction. My life is still as it was before. But Iggy is doing what she feels makes Iggy happy. That's what she should do. We're focused on making the next Iggy record and dodge the same adversities we faced last time. "It's definitely not a 'sever my ties, walk away, I'm upset' thing," Tip continued. "It was more so like, OK, you have a lot on your plate right now. I'm going to pull back or wait until you come to a place where you're ready to come back to the table, so we can start again and make history some more."
History!
Discuss