A survey of roughly 17,000 songs that charted between 1960 and 2010 has found that the mainstream emergence of rap in the early '90s was the most "single most important event" in modern music history.
Researchers at University of London and Imperial College found that pop music has had three revolutions. They are: the 1991 emergence of rap and hip-hop on the mainstream charts; the synth-led new wave movement of 1983 and the Beatles-led British invasion of the early '60s.
Rap topped the British invasion in chart impact, the study found, because Hip Hop music was breaking new mainstream ground, whereas the Beatles, Stones and the rest were piggybacking on the mainstream success of American artists like Chuck Berry and Little Richard.
Lead researcher Matthias Mauch called the study -- which used computers to analyze 30 seconds snippets of each song -- "ground breaking."
"For the first time we can measure musical properties in recordings on a large scale," he said. "We can actually go beyond what music experts tell us, or what we know ourselves about them, by looking directly into the songs, measuring their make-up, and understanding how they have changed."
Here is the study in chart form: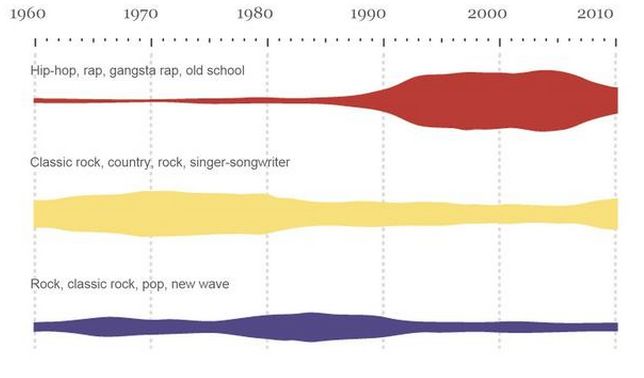 As you can see, the study also suggests Hip Hop and rap have lost some of their chart momentum over the last seven or eight years. Something fans of the genres have certainly been pointing out lately.
Discuss