Circus creature Stitches is back.
He's remixed Taylor Swift's hit 'I Don't Want To Live For Ever', and to promote the project he's threatened to beat up the Taylor tormenting Kanye West.
"Listen up, I want all my fans to go to Taylor Swift's page and write, 'Go listen to Stitches new 'I Don't Want To Live Forever' remix. And listen up Taylor, I'm with ya baby. Next time I see Kanye West, I'm gonna knock him the fuck out for you. Yeah, I promise that and after that, I'm gonna lick your ass. Yeah, you can come. Ex-drug dealer and we can have a drug-dealing baby. You know what I'm saying? Yeah. I love all of Taylor Swift's fans. I love Taylor Swift too. Ooouuu. Taylor, Taylor, Taylor, thank God they made ya. It's time to have a baby."
Is that more of a threat to Kanye's face or Taylor's ass?

We're going with Taylor's ass. Although Stitches' old buddy Wack 100 thinks 'Ye should be worried.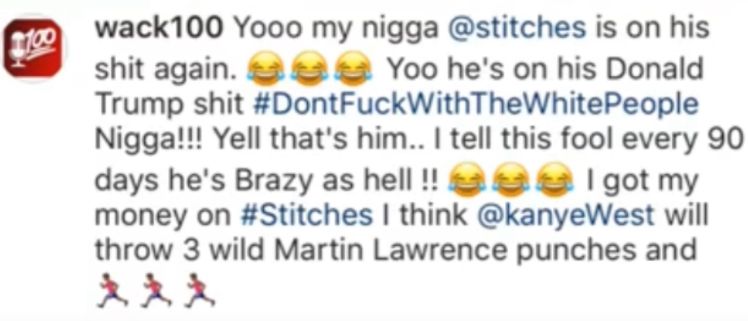 Discuss