If you can't beat 'em join 'em.
Stitches, who was literally beaten by Game's manager Wack 100, now appears to be managed by Wack 100.
Wack broke the news on IG.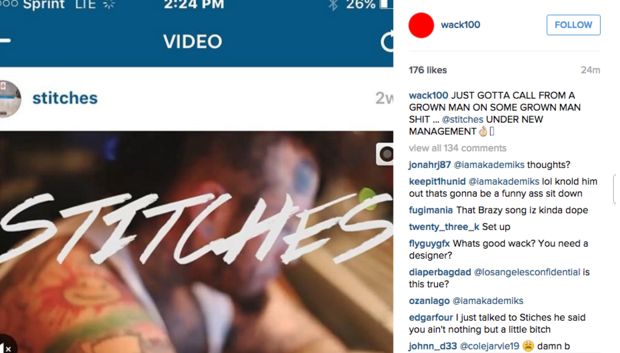 "JUST GOT A CALL FROM A GROWN MAN ON SOME GROWN MAN SHIT ... @stitches UNDER NEW MANAGEMENT," says Wack 100's post.
Stitches could use new management. In addition to ending 2015 with multiple Ls to the face, the 20 year old was evicted from his Miami home for not paying rent.

Now that he's with Wack 100, does that make it more likely that he and Game are going to celebrity box?

This is one of Stitches' last Tweets, BTW:
IM BIPOLAR IM BIPOLAR IM BIPOLAR AS FUCK

— STITCHES (@StitchesTMI) January 3, 2016
Discuss