It's been almost two years since Chris Brown and Karrueche Tran broke up after the R&B singer fathered a love-child with another women.  But it seems like he still has feelings for her.
Either that or he just doesn't want anyone else to compliment her. Just ask Soulja Boy, who claims Brown threatened him after he liked a photo of Tran sitting on a balcony in a two -piece bikini.
Soulja then told the "Loyal" singer to "pull up" and accused him of using too much of the white powdery stuff.
The 'Crank That' rapper ended 2016 locking horns with folks like Quavo, Lil Yachty and actor Shia LaBeouf. Now he's begun 2017 beefing with Chris Brown.
Plus, he's been getting clowned left and right ever since telling that wild story about killing a home intruder.
Brown responded to SB's provocations by calling him an attention whore and a snitch.
He also denied contacting Soulja about his Karrueche comment.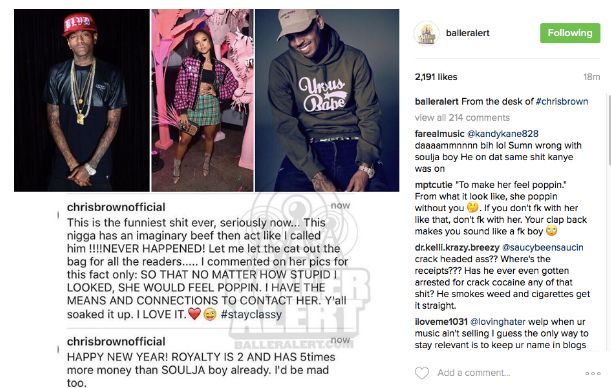 For his part, Soulja Boy mocked Brown for beating up Rihanna, and questioned his gang credentials.
How do you want this to end?
Update: Brown claims Soulja tried to apologize, but he's not having it.
Now they are going to box, and release each other phone #'s.
Discuss