Despite flashing a bunch of guns and constantly making threats, it's hard to believe that Soulja Boy would actually try to kill someone that he's beefing with, but he sure wants people to believe that.
A few days ago, he came for actor Shia LaBeouf and said he was banned from Atlanta, and now he's going at Migos member Quavo in  a new diss song called 'Beef.'
Before Soulja released the scathing track, he shared an Instagram exchange between himself and the 'Pipe It Up' rapper that seems to show they were planning to meet up and fight.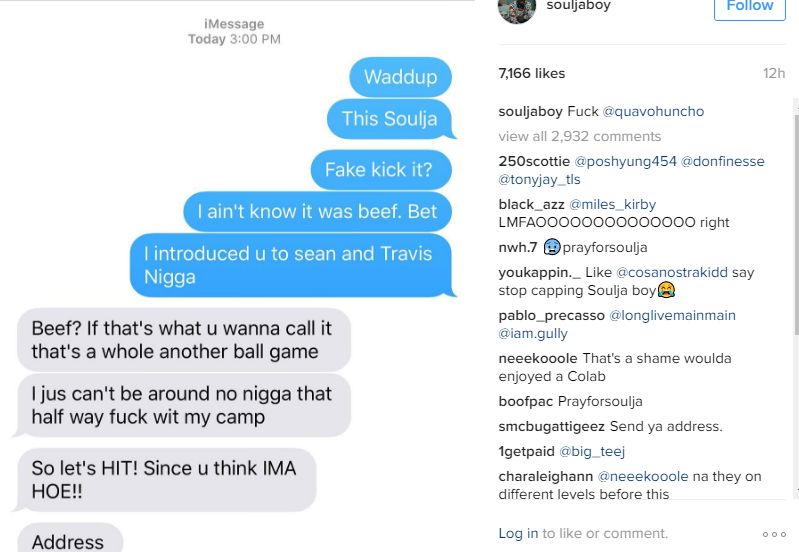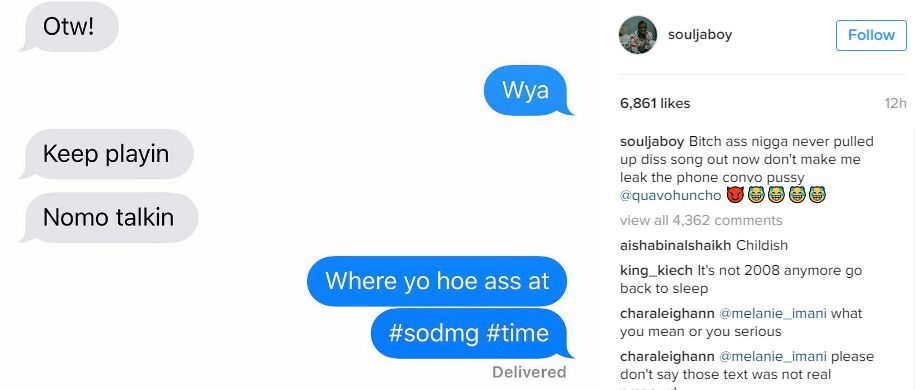 "So let's hit since you think I'ma hoe," Quavo allegedly wrote. "I just can't be around no n---- that half way fuck with my camp." "I ain't know it was beef," Soulja replied. "Bet. Fake kick it? Waddup?" Then he said Quavo didn't show up for the brawl, and he let everyone know about it on Instagram. "Bitch ass n---- never pulled up," he wrote.
In the actual diss song, Mr. Tell 'em continued to threaten Quavo and said he helped Migos get their career going back in the day.
"Quavo, you a bitch, n---- / I introduced you to Sean Kingston, n---- / I introduced you to Travi$ Scott, n----, what you forgot? / Quavo, Quavo, Quavo said he want some beef with me / Aye man, I guess you mad 'cause I fuck Lil Yacthy girl and he ain't never met her before," rapped Soulja.
Then the 26-year-old closed the song out with a long soliloquy about why he dislikes the YRN creator.
"Ya'll n---- don't even get a second verse," Soulja yelled. "You only get one verse. You're calling my phone, talking about you want some beef? Talking about you don't wanna fake kick it? Fuck you talking about, n----? I ain't get that way from ya'll bitch-ass niggas. I got that way from Famous Dex. Ya'll was dissing Famous Dex in ya'll song."
Quavo hasn't responded to the diss song yet, nor has any of the Migos members. Hopefully, all of this won't lead to actual violence, and the two will be able to settle things.
Soulja boy: damn quavo is poppin right now

Inner Soulja: start beef with him to try and stay relevant pic.twitter.com/3M1TmN2jgD — Ryan (@GlockRivers) December 6, 2016
Discuss