In verbal attacks pointed at finger-nail-painting rapper NBA YoungBoy, Soulja Boy declared himself the last of the straight rappers.
Boosie Badazz, who is something of an expert on all things homosexual, disagreed.
The disagreement was broadcast on Twitter.
Check it out.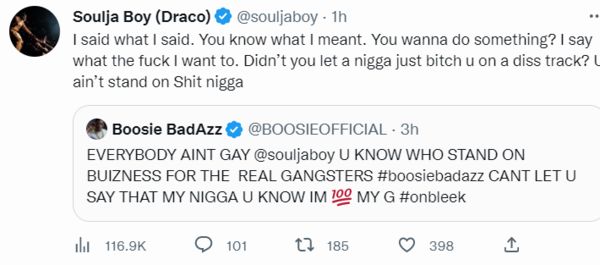 "EVERYBODY AINT GAY @souljaboy U KNOW WHO STAND ON BUIZNESS FOR THE REAL GANGSTERS #boosiebadazz CANT LET U SAY THAT MY NIGGA U KNOW IM MY G #onbleek," Boosie typed.

"I said what I said. You know what I meant. You wanna do something? I say what the f*ck I want to. Didn't you let a n*gga just bitch u on a diss track? U ain't stand on Sh*t n*gga," SB clapped back.
Boosie vs. Soulja, who you got?
Discuss