Last night, XXXTENTACION was suckered punched and laid out as he performed 'Garrette's Revenge' on a San Diego stage.
this just happened at the concert bro pic.twitter.com/Sne2pUQHHC

— BJ (@BASEDJESUS) June 8, 2017
Now we have reports that a man was stabbed right after the incident on stage, and may be in critical condition. (Fox San Diego has confirmed the stabbing, but not the victim's condition.)
Judging from X's (now deleted) social media activity, the stabbed man may have been involved in the punch.
Damn this is Crazy! #RobStone #XXXTentacion pic.twitter.com/No8X8MUIS8

— Mike Loftus (@MikeLoftus_) June 8, 2017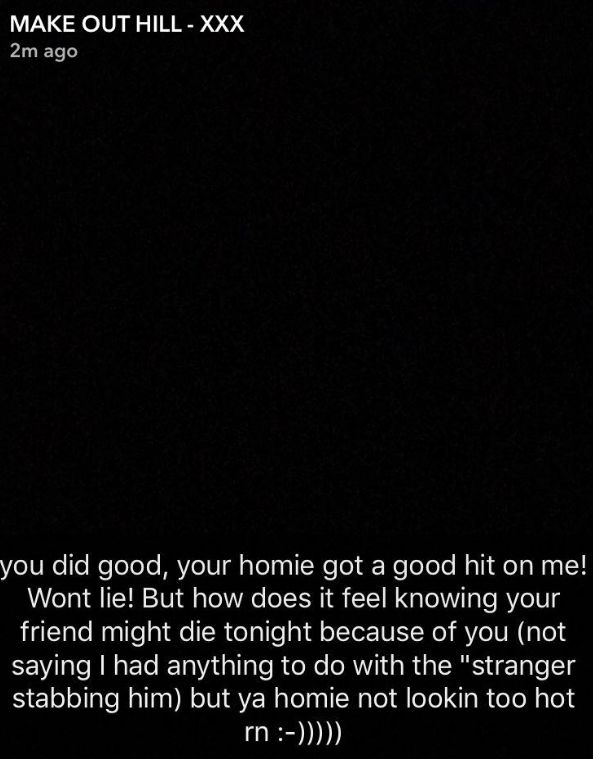 The last message seems directed at Rob Stone. Stone and XXXTENTCION have had issues ever since X's good friend Ski Mask The Slump God was similarly attacked on a San Diego stage by Stone's crew.
In addition to the stabbing, there was a riot after the show.
Drake, who has a history with X, is feeling it all:
Here is X's reaction to the incident which is still up.
security and venue set me up, I got sucker punched and knocked out, it is what it is.

— MAKE OUT HILL - XXX (@xxxtentacion) June 8, 2017
next time make sure you kill me so I can't talk shit

— MAKE OUT HILL - XXX (@xxxtentacion) June 8, 2017
Discuss