Celina Powell is probably the rap game's most notorious and shameless groupie.
But that doesn't bother her boyfriend DJ Akademiks.
The Internet talker went and bought Powell a 2020 G-Wagon, which she then went and posed on.
"MY MAN SAID F*CK A BIRKIN & GOT ME 2020 G WAGON !!!!!!!! @iamakademiks baby wtffff 🤯 thank you so SO much !!! 😩😩😩 I'm crying I love u !!!!"
Ak responded in the comments.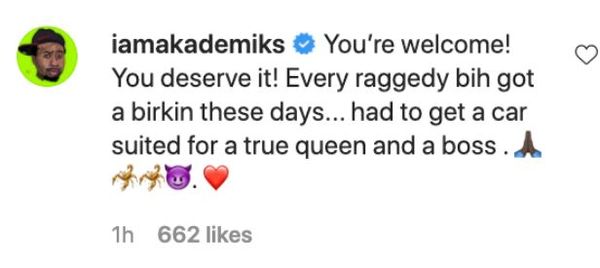 "You're welcome! You deserve it," he typed. "Every raggedy bih got a birkin these days... had to get a car suited for a true queen and a boss."
Hmm. Do you think Powell is acquiring inside information with her mouth game and then passing it on to her fellow to disseminate to his followers?
Discuss