LeBron James's oldest son Bronny James has been a lightning rod for criticism at the young age of 17.
Skip Bayless was the latest older person to send a shot the high schooler's way when he compared his dunking skills unfavorably to his famous dad.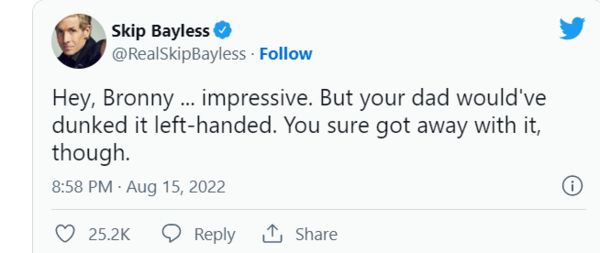 Hey, Bronny ... impressive. But your dad would've dunked it left-handed. You sure got away with it, though," Skip said about a vial Bronny dunk.
A lot of folks thought Skip was unfair to compare Bronny to his GOAT father. Skip explained his Tweet this morning on ESPN.
.@RealSkipBayless responds to the reaction surrounding his tweet about Bronny James' viral dunk: pic.twitter.com/vXZUGefN3t

— UNDISPUTED (@undisputed) August 16, 2022
"I didn't intend it as criticism ... His dad is ambidextrous," Skip said, explaining that Bronny would have been better off on the play if he could use his left hand like LeBron can. "I wasn't criticizing Bronny, I was merely commenting on a young man who is clearly going to be a focal point for this show and everybody else from this point forward," Skip explained.
Here's the dunk.
BRONNY JAMES THROWS IT DOWN 🔥 pic.twitter.com/ikJ8ksPVSx

— SportsCenter (@SportsCenter) August 15, 2022
Does Skip have a point?
Discuss