There's a lot of subliminal jabs being thrown on the current Young Thug and Travi$ Scott Rodeo Tour.  But last week during a show in Chicago, Travi$ took things to another level. For reasons no one is completely sure of, the young rapper/producer ended his set by yelling "Fuck Trey Songz!"
When the Rodeo Tour stopped in Trey Songz's home state of Virginia earlier this week, the singer's fanz decided to confront Scott by surrounding his tour bus.
Although, as you will see in the video below, there's nothing so intimidating about standing around recording yourself being intimidating. Travi$ managed to leave the scene unscathed, and now it really seems like we won't be getting that Travi$ Scott/Trey Songz/Rich Gang collabo the streets are desperately needing.
Here's the Chicago diss that started it all:
And here's a Tweet from Songz that may have riled things up.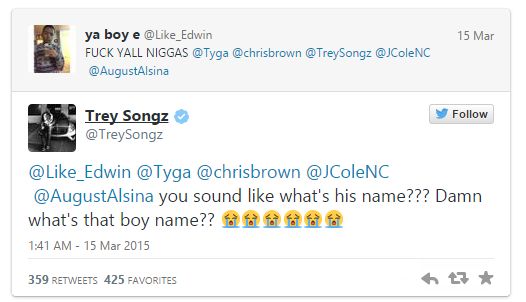 Post by A. Mia Logan
Discuss