Remy Ma is locked and loaded, but, who is she gunnin for?
Eleven months ago, Remy came directly for Nicki Minaj with "SHEther", and then again with "Another One".
Nicki then responded in a way that most fans weren't very crazy about; involving both Lil Wayne and Drake to join her on "No Frauds", where light jabs were taken at Remy here and there. Since then, Nicki was roasted via social media. She then came back with more jabs on DJ Khlaed's album on "I Can't Even Lie".
With continuous, subtle back-and-forths, it suddenly grew quiet. Could Remy be resurfacing this beef or could Remy have a new target this time?
You can't fuck with me baby, you don't understand bitch, This for Remy Mafia I do this for my fans bitch/ I get 100 bands bitch/ You aint even got no man bitch/ Why would I give you a chance shorty when I can give you these hands bitch?/ You don't want no smoke with me/ You really a joke to me.
Most people would draw the conclusion that these bars, once again, are aimed at Nicki. However, it's possible she's now taking shots at Azealia Banks.
The two went at each other via Instagram last month after Remy made a comment about women in Hip Hop during an interview with Ebro In The Morning.
When I came home it was nothing, it was tumbleweeds blowing through as far as female artists is concerned.
Azealia had something to say about this: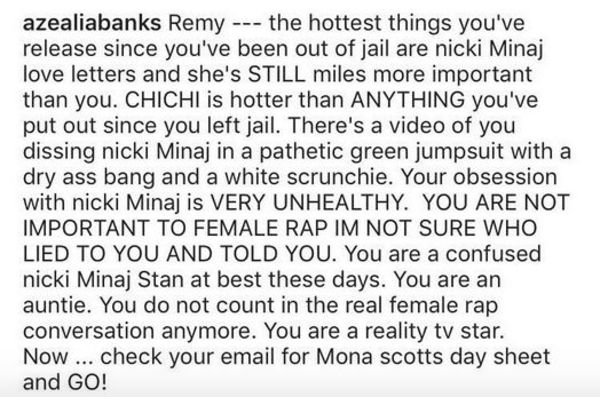 Who do you think she's coming for? Stay tuned for the full song and find out!
Discuss