After declaring Best Album Grammy winner Beck should "respect artistry' and give his award to Beyonce, Kanye West backed off a little.
He clarified that his comment wasn't about Beck, but about the Grammys using artists like Beyonce to perform and then not giving them awards. Never mind that he specifically said Beck should give up his award, and that Beyonce won three Grammys this year, and her total of 20 Grammys is the second most ever by a female artist.
The backlash against West's boorish behavior has been swift and probably even more unanimous than it was when he stage rushed Taylor Swift.  Shirley Manson, lead singer of the alternative band Garbage (who were quite big in the nineties), summed up what a lot people feel about Kanye's latest stunt in a Facebook post that went viral.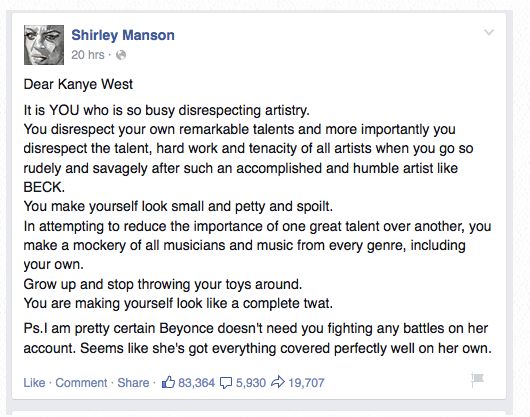 Now that the dust has settled a little bit, what do you think of 'Ye's latest outburst?
Discuss