When we last checked in on Shaquille O'Neal he was about to start a chicken wing fight with his studio rival Charles Barkley.
That would have been funny. What he did last night on TNT was horrifying.
He showed his toes.
Someone get this man a pedicure! pic.twitter.com/SFCjnq7XV7

— NBA on TNT (@NBAonTNT) May 26, 2017
Needless to say, it got folks Tweeting.
I am not posting Shaq's foot. There are children on this app

— CJ Fogler (@cjzero) May 26, 2017
I can't unsee Shaq's feet pic.twitter.com/FMN3hAZpXg

— Zero Dark 33 (@BuckeyesGirl33) May 26, 2017
Yo @NBAonTNT we need a #NSFW warning before you put @SHAQ's feet on TV again! #cmonman pic.twitter.com/RE2GSdlg2j

— Cris Carter (@criscarter80) May 26, 2017
The most poignant Tweets came from Shaq's son Shareef.
Whoever saw my dads toes on TV, I'm sorry

— Shareef O'Neal (@cynreef) May 26, 2017
Just think about it ... I've been seeing his toes for 17 years... I've been scarred

— Shareef O'Neal (@cynreef) May 26, 2017
On the other hand, Shareef got much of his dad's height and agility and enters the University of Arizona as the 28th rated high school prospect in the nation.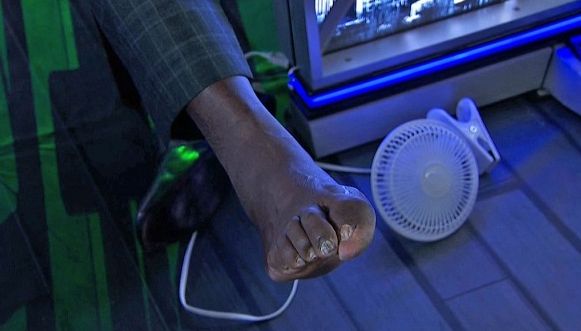 Discuss