Lots of big moments this year at the BET Awards.
Beyonce and Kendrick Lamar kicked off the show with a performance of 'Freedom', and there were Prince tributes throughout.
Humanitarian Award winner Jesse Williams made an impassioned speech about Black Lives Matter, and Fabulous did this when he saw Desiigner getting turnt: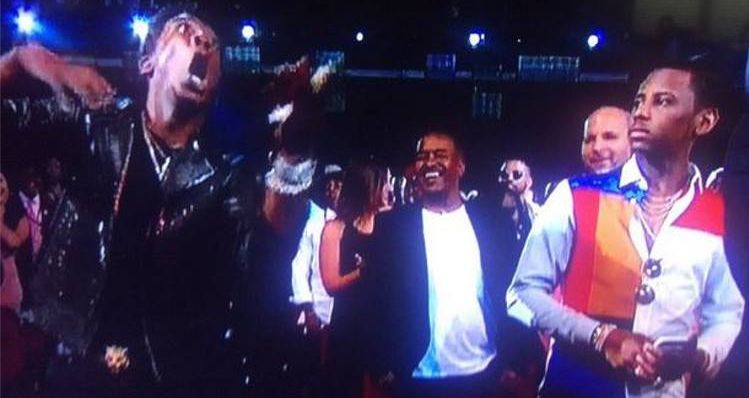 Beyonce led the pack with four awards, and Drake picked up three. See the complete list of winners below.
Best Male R&B/Pop Artist -- Bryson Tiller Best Female R&B/Pop Artist -- Beyoncé Best Actor -- Michael B. Jordan Best Actress -- Taraji P. Henson
Best Movie -- "Straight Outta Compton" Best New Artist -- Bryson Tiller Video of the Year -- Beyoncé, "Formation" Best Male Hip-Hop Artist -- Drake
Best Female Hip-Hop Artist -- Nicki Minaj Best Collaboration -- Rihanna ft. Drake, "Work" Best Group -- Drake and Future Best Gospel -- Kirk Franklin
Youngsters Award -- Amandla Stenberg Centric Award -- Beyoncé, "Formation" Video Director of the Year -- Director X Dr. Bobby Jones Gospel Inspirational Award -- Kirk Franklin
Coca-Cola Viewers' Choice Award -- Beyoncé, "Formation" Sportsman of the Year -- Stephen Curry Sportswoman of the Year -- Serena Williams Best International Act Africa -- Wizkid (Nigeria)
Best International Act U.K. -- Skepta Humanitarian Award -- Jesse Williams Lifetime Achievement Award -- Samuel L. Jackson
Discuss