There's a new beef brewing in Atlanta between Migos and young spitter SahBabii. It started after Offset criticized rappers who wear upside down crosses.
"All y'all nigga wearing upside down crosses, ya'll my little partners but stop that shit," said Offset. "Ya'll look lame. All that worship devil shit. Here with God, man."
Even though Offset didn't mention upside down cross wearer SahBabii by name, the young rapper still came at him pretty hard.
He then dissed Offset in two more posts that have since been deleted.  They both had to do with a notorious 2015 photo of Migos giving money to Booker T. Washington High School.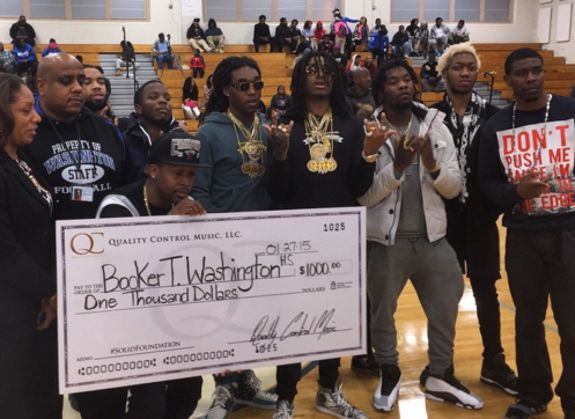 "Nigga, you look lame fuck," wrote SahBabii. "Talm boud. My cross gone stay upside down. Ya'll niggas donate $1,000 to Washington but throw $10,000 in a club. I will beat yo ass."
In the second deleted post, which showed the photo of the big check, SahBabii wrote this:
"I showed these niggas respect. Now fuck Migos. We ain't going for no disrespect. Nobody asked for this lame ass nigga opinion."
Offset shot back, and let's just say he didn't take too well to being called out. You can check his response below. We'll have to see where this beef goes from here, and if Migos gives SahBabii the Sean Kingston treatment.
Discuss