The other day, Meek Mill went on a Twitter fit, during which he said that Atlantic "separated" him from Roddy Ricch, an artist Meek promoted before he became famous.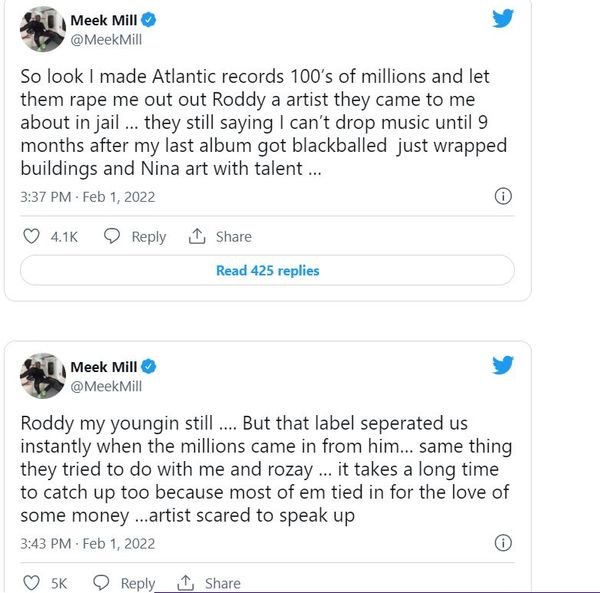 In a new interview with DJ Akademiks, Roddy says that's not quite how it happened, and he's already talked to Meek about what he Tweeted.
"I called Meek as soon as that happened. Got his number. Facetimed him. He gave me the whole run down," he explained. "My only situation with him, he know this so I can say whatever I want to say… One thing you not gone ever hear me do, I'm a real n*gga, I don't speak on shit with n*ggas. I explained this to him, please let's not speak on our business and situations if we can't even call each other on the phone. That's one thing that I don't do ... I made that clear to him."
According to Roddy, he has a good situation with Atlantic,and whatever Meek's gripes are, they have nothing to do with him.
"He has some valid points ... his situation with Atlantic is not my situation with Atlantic," Roddy explained.
Roddy did acknowledge he once wore a Dreamchasers chain. There were also reports in 2018 that Roddy signed with Dreamchasers, although the proved to be untrue. However, Roddy told Ak his OG big homie was the late Nipsey Hussle, not Meek Mill
"My situation with Atlantic was already solidified due to Nipsey Hussle walking me into the building. He gave us that big brother love, that big brother hug, and never wanted anything from us. I was really supposed to All Money In. I can show you picture while I had the Dreamchaser chain and the All Money In chain in the same time ... Before the Meek situation, Nipsey took me to Powerhouse, had me performing in front of people who didn't know nothing I put out."
Not a good look for Meek and his Twitter fingers.
Discuss