Rihanna recently switched up her Twitter page header to an image of Martin Luther King with a gold teeth and icy earrings.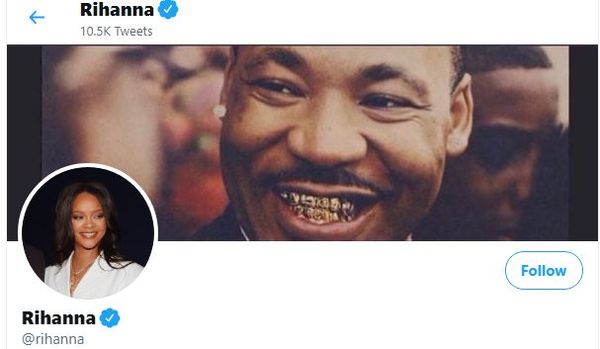 Some folks are saying Rihanna disrespected the civil rights legend by photoshopping him like a rapper.
So this is on @rihanna Twitter page. A photoshopped image of MLK with gold teeth in his mouth and a diamond earring. These foreigners have no respect for our culture. I will say for the 1000th time they will use a foreigner in a film to play a bisexual MLK. pic.twitter.com/9WrNGXKUnX

— The ADOS app (@AdosLineage) February 19, 2021
@rihanna why do you have a picture of #MLK with gold teeth in his mouth up? That's very disrespectful.

— BOSS_HOGG_3_5_7 (@hayeswho) February 18, 2021
Whats up with the MLK background - gold fronts & earrings??? During BHM, really??? Take that down! Smh

— Geechee Blu (@Anthony84063923) February 19, 2021
What's worse than #MeekMill disrespecting Kobe Bryant or #Rihanna disrespecting Dr Martin Luther King are the FUCKING people defending Meek and Rihanna! #HappyBlackHistoryMonth pic.twitter.com/tlobc8azGH

— HIP HOP since 1974 🇺🇲 (@DEBOMARKS) February 18, 2021
While quite a few people have Tweeted that they are offended, none of these Tweets have many likes.
So far Rihanna has caught more heat from Hindus for wearing a diamond-studded pendant with the Hindu god Ganesha while topless than she has for photoshopping King.
Is that simply because the MLK image wasn't offensive?
Discuss