In December of 2014, Riff Raff said he was training with Hulk Hogan to become a wrestler. Riff is the same guy who would go to prom with you for $28,000, so we believed it.
Riff made his wrestling debut this weekend.  It wasn't alongside the Hulkster -- who was busy winning at least $115 million from Gawker --- but he did make a lasting impression.
During an independent match between Kurt Angle and Rey Mysterio Jr., Riff Raff came out of nowhere to prevent Kurt from using a steel chair. The best part is having Jim Ross, a legendary color commentator, call the action. "Riff Raff...the rapper Riff Raff taking a chair."
Rey Mysterio vs Kurt Angle #URFight Finish pic.twitter.com/9mvInUCZP4

— ZombieProphet (@ZProphet_MMA) March 21, 2016
Will Kurt Angle get his revenge on Riff Raff? It looks like something is in the works.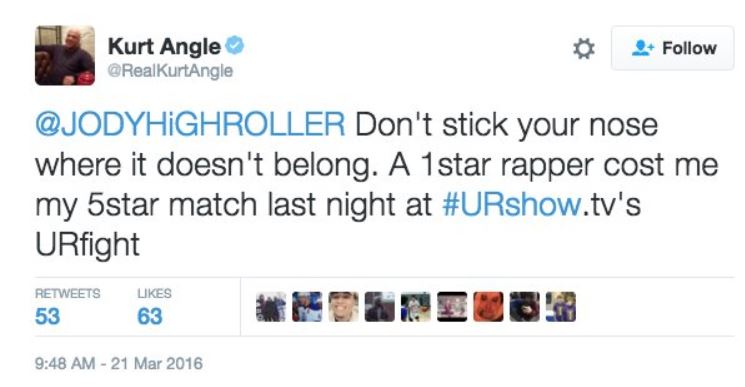 U NEED TO ACT LiKE A PENGUiN AND CHiLL OUT BEFORE i HiT U WiTH THE LAMBORGHiNi LEG LOCK OR THE HOLOGRAM CHOKE SLAM https://t.co/yo9xFW9tGt

— JODY HiGHROLLER (@JODYHiGHROLLER) March 21, 2016
Discuss