DaBaby was arrested yesterday in Miami after getting caught on tape beating, robbing and pouring apple juice on a promotor who is said to have underpaid him.
Rick Ross's ex and baby mama Tia Kemp (not the 50 Cent baby mama, that's Lastonia Leviston) may have known the promotor DaBaby humiliated because she went in on the Charlotte rapper after getting word of his arrest.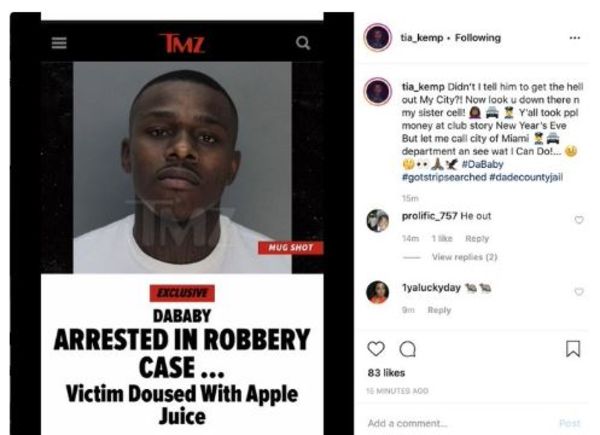 "Didn't I tell him to get the hell out My City?! Now look u down there n my sister cell! Y'all took ppl money at club story New Year's Eve but let me call city of Miami [police] department an see wat I Can Do," she wrote, suggesting she may have called the cops on DaBaby.
DaBaby will be in her city for a while, albeit without any choice. He was denied bail at his arraignment this morning because of an open warrant in Texas on another assault charge.
Kemp settled a nasty child support dispute with Ross over their 12-year old son last summer.
Discuss