50 Cent was represented by the law firm Reed Smith when he was sued by Rick Ross's baby mama Lavonia Leviston for leaking and narrating her sex tape.
Leviston ended up winning $7 million in 2015, forcing Fif into bankruptcy. Angered by the judgment, Fif didn't pay Reed Smith the 600K he owed them for the case. When they came to collect, 50 sued the 33rd biggest law firm in the world for $32 million for legal malpractice. Part of 50's case against Reed is that they made a pre-trial agreement with Leviston's lawyers that would preclude Ross from testifying.
To prove that, 50's lawyers have to talk to Ross. However, Ross doesn't want to talk and has been avoiding all of their attempts to serve him with a subpoena.
50's lawyers have tried to serve Ross at his Atlanta home, a show on October 31 in Pennsylvania and at Complexcon in SoCal on November 3.
"Given his celebrity lifestyle, Ross has proven exceptionally difficult to personally serve," 50 Cent's legal team said in a court filing. "As a prominent celebrity, Ross lives in a gated home and has personal security personnel protecting him at the various public appearances he makes."
Ross was supposed to be deposed on November 22. Now 50's lawyers are begging the judge to give them a one-month extension to subpoena The Bawse and make their case against Reed Smith.
Let the games continue.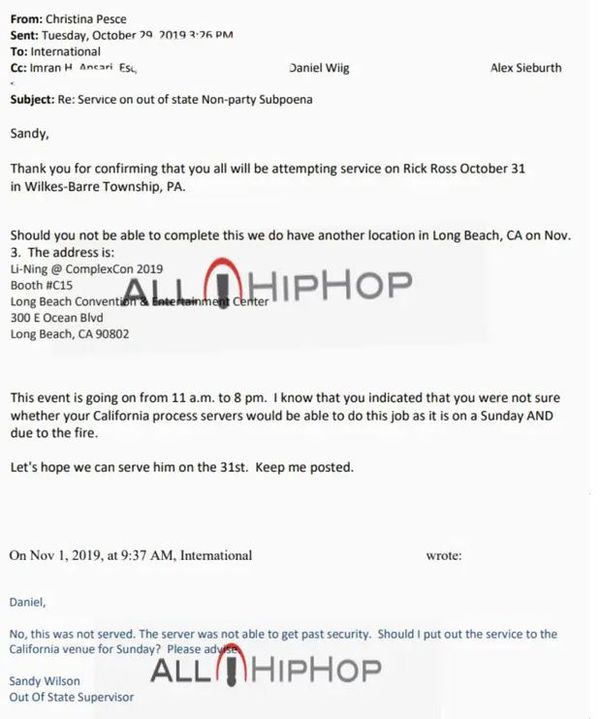 Discuss