Earlier this month, NBA YoungBoy suggested he had signed a new $60 million deal.
"August 5th this Friday pre-order now 'the new lil top with surprise feat /don't wanna miss this classic with @atlanticrecords @artistpg," YB posted. "how we came in the game @mikecaren I appreciate you for that phone call @itsep I am on now 60 million dollar n*gga you lil puppies August 5th 'The Last slimeto' pre-order now."
Industry trade HitsDailyDouble pushed back on this, confirming YB's deal with Atlantic was done with the release of The Last Slimeto but denying he had signed any sort of deal.
Not there is all sorts of Twitter chatter that the $60 million deal YB has signed or will sign is with Birdman and Cash Money.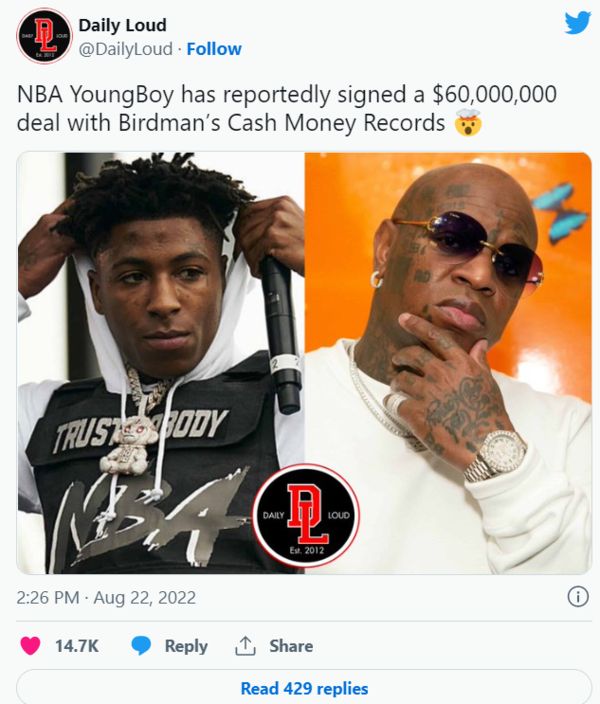 If YB is really going to Cash Money it would be quite the Louisiana reunion. And Birdman and YB are tight -- they dropped the joint tape From The Bayou last December.
Birdman has also been buttering YB up for a minute.
"I think NBA Youngboy might be the biggest rapper," he said last year. " I ain't no n*gga gonna be bigger than NBA YoungBoy. Numbers. Numbers don't lie He the biggest YouTube artist in the world, and he behind a wall. When that little boy get his mind right, and come out from this bullshit, and understand who he is. Thug and all them 30. He 20. You put a n*gga behind a wall, you making him smart. They making him into monster. NBA YoungBoy that ain't normal. He special. I think he's a billion-dollar n*gga. I tell him that. I talk to him every day."
Still, we have serious doubts that this rumor is true. It would be pretty baffling for a rapper with as many options as YB to sign with Cash Money, given Birdman's stated policy of not paying anyone.
Discuss