Remy Ma got out of prison a couple of months ago after six long years. Shooting someone in the gut will do that.
So gave her first TV interview to Wendy Williams yesterday, and the syndicated talk show host asked Remy what the first thing she did when she was released.
"I took a shower," Remy explained. "For six and a half years I took a shower with shoes on because you don't want to step on the floor: you can't touch the walls. So I was just in the tub like, you know just rubbing my hands on the tiles."
Remy also told Wendy that she had a hairdresser waiting at the house on her return home, and that her first meal was Popeyes.
Additionally, Ma dished on prison life. She didn't get any tattoos  ("I'm not really a tattoo person.") She singled out 50 Cent and Keyshia Cole as two industry figures who stuck with her when she was locked up. Fat Joe didn't visit, she curtly explained.
Later in the interview, Ma told Williams that should would love to work with any female emcee in the business, including Nicki Manij, who some incorrectly assume she has a beef with. She also unveiled the cover art work (below) for her upcoming mixtape I'm Around, which should be released in November.
At the end of the interview, Ma drops a little freestyle. And takes a little shot at Manij.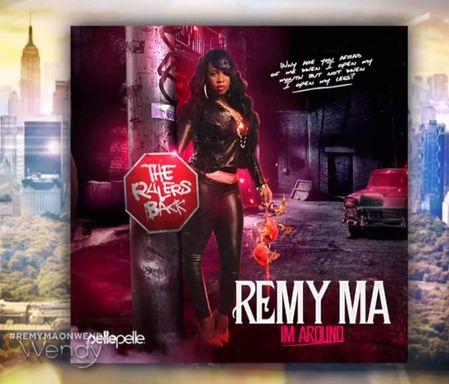 Discuss