Remy Ma and Azelia Banks beefed with each other over the weekend.
It started after Remy stopped by Ebro in the Morning and spoke about the number of female rappers there were when she left prison.
"When I came home it was nothing," said Remy. "It was tumbleweeds blowing through as far as female artists is concerned."
Banks, who was a female rapper out there when Remy left prison, took offense to those words, and she dissed the Bronx rapper and her music.
Afterward, The Broke With Expensive Taste rapper posted another message and told Remy that she makes music for old heads.
Probably to nobody's surprise, Remy clapped back. So did so with receipts: releasing some old text messages from Banks. According to the texts, Banks kept asking Remy to be on songs, wanted advice about being on Love & Hip-Hop and even asked her about getting labioplasty.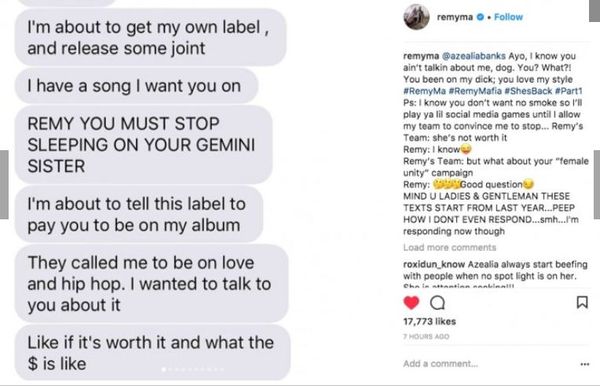 Remy then sent Banks another shot.
Banks then responded on video.
"The reason you got a Grammy nomination was because of French Montana's hook and the money put into Fat Joe's comeback ," said Banks. "That was not a Remy Ma moment."
Do you think Remy should've ignored Banks and focus on her new music and new record deal, or did she have to defend herself?
Discuss